Creamy Cilantro Sauce!!!
Okay, I might be overly excited about this post, but can you blame me? You know you love pasta too, don't try to hide itl. This sauce is everything you want from pasta sauce — creamy, satisfying, and really tasty. If you were to tell me a year ago I was going to be swooning over this creamy cilantro sauce right now, I'd say you're crazy. I hated cilantro with a passion, I could not stand the taste of it in anything. But now? There's always cilantro in the fridge in our house. Just last night, I was making sushi and was really happy I found leftover cilantro hidden in the fridge. I'M LITERALLY OBSESSED — all-caps obsessed.
The general misconception about healthy food is that you won't ever be able to treat yourself to something sweet or eat a big bowl of comforting pasta. That's so not true! In fact, I'm snacking on raw chocolate bites I made yesterday and I'm loving life.
Does this pasta look boring? No! Is it delicious? Yes. Is it healthy? Absolutely!! Well, okay, maybe it's not raw-smoothie-with-kale-and-10-superfoods-in-it healthy, but it's gluten-free, vegan, and definitely better for you than any regular pasta dish.
I've been really into brown rice pasta lately and I can't get enough of it. Whether it's drowned in this creamy cilantro sauce or this Roasted Bell Pepper Sauce, or last but definitely not least this Tomato Sauce with Veggies and Pine Nuts (my go to meal), I love it.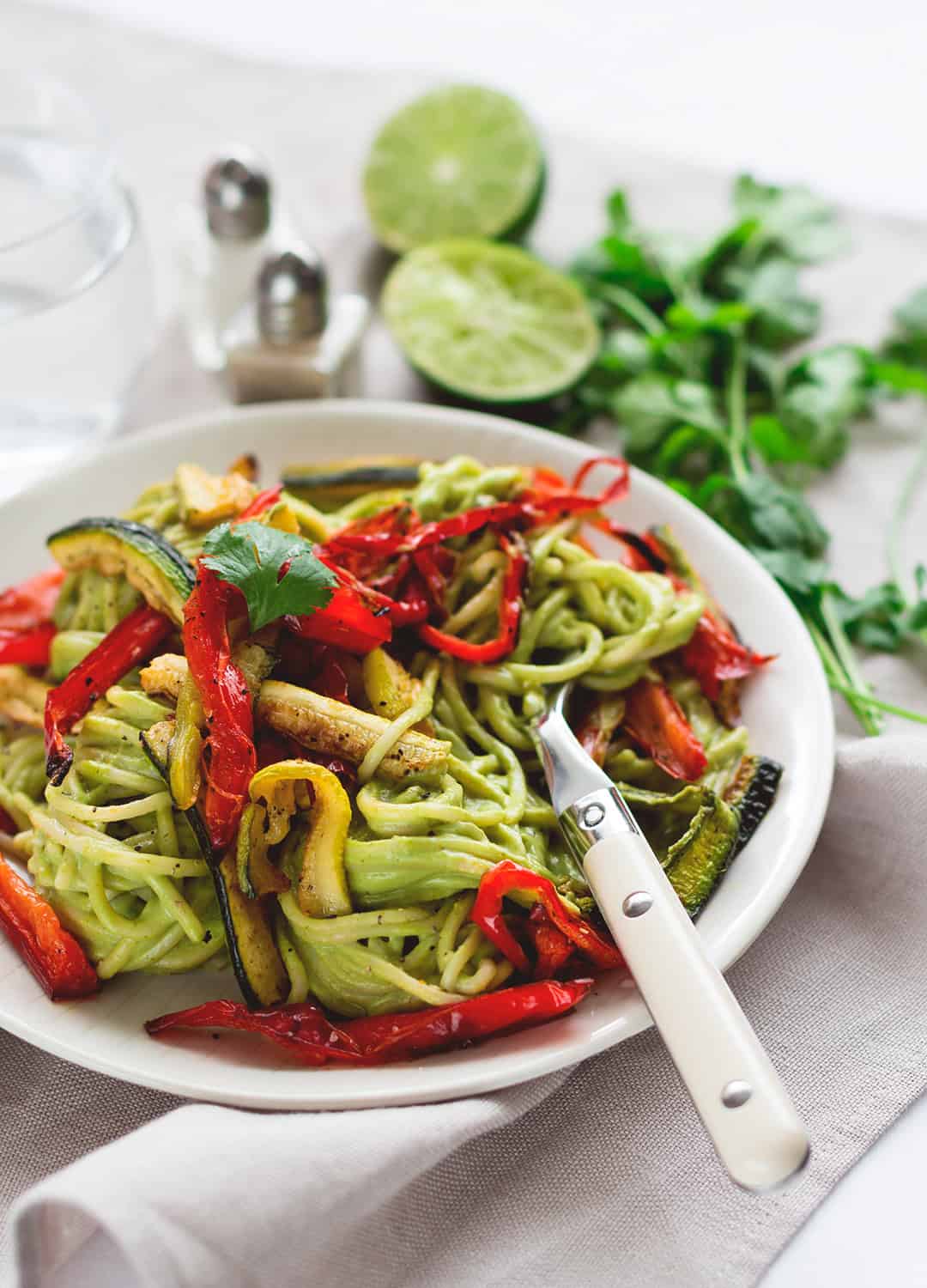 Reasons you need Creamy Cilantro Sauce in your life:
it's easy to make
it's creamy
it's really delicious
it's a healthy
it's vegan
did I say it's delicious
you can pour it over pasta, use it as salad dressing, dip sweet potato fries in it or even put it on sushi! (yes, I made super spicy sushi the other day and put a dollop of this sauce on each piece and it was heavenly)
do you really need more reasons to make this?
I'll let the pictures below speak for themselves ↓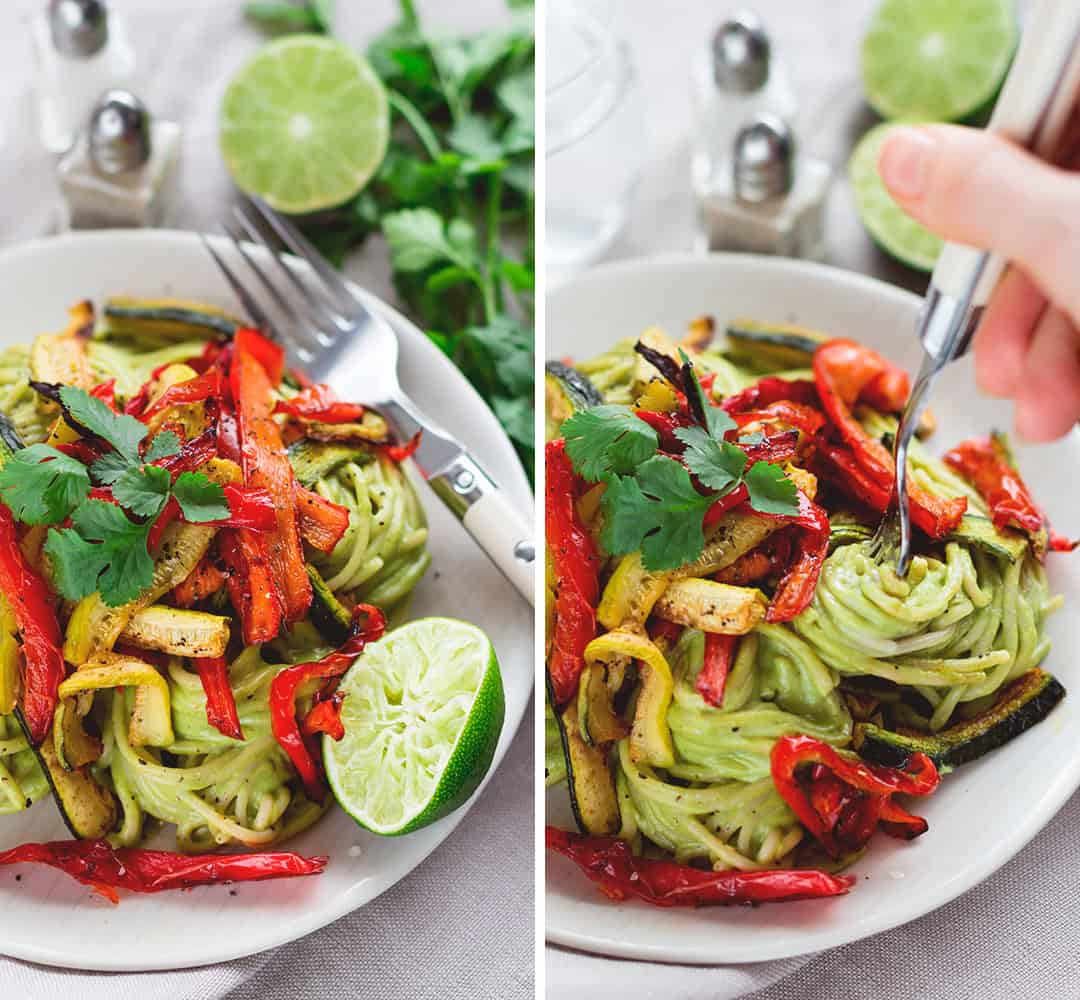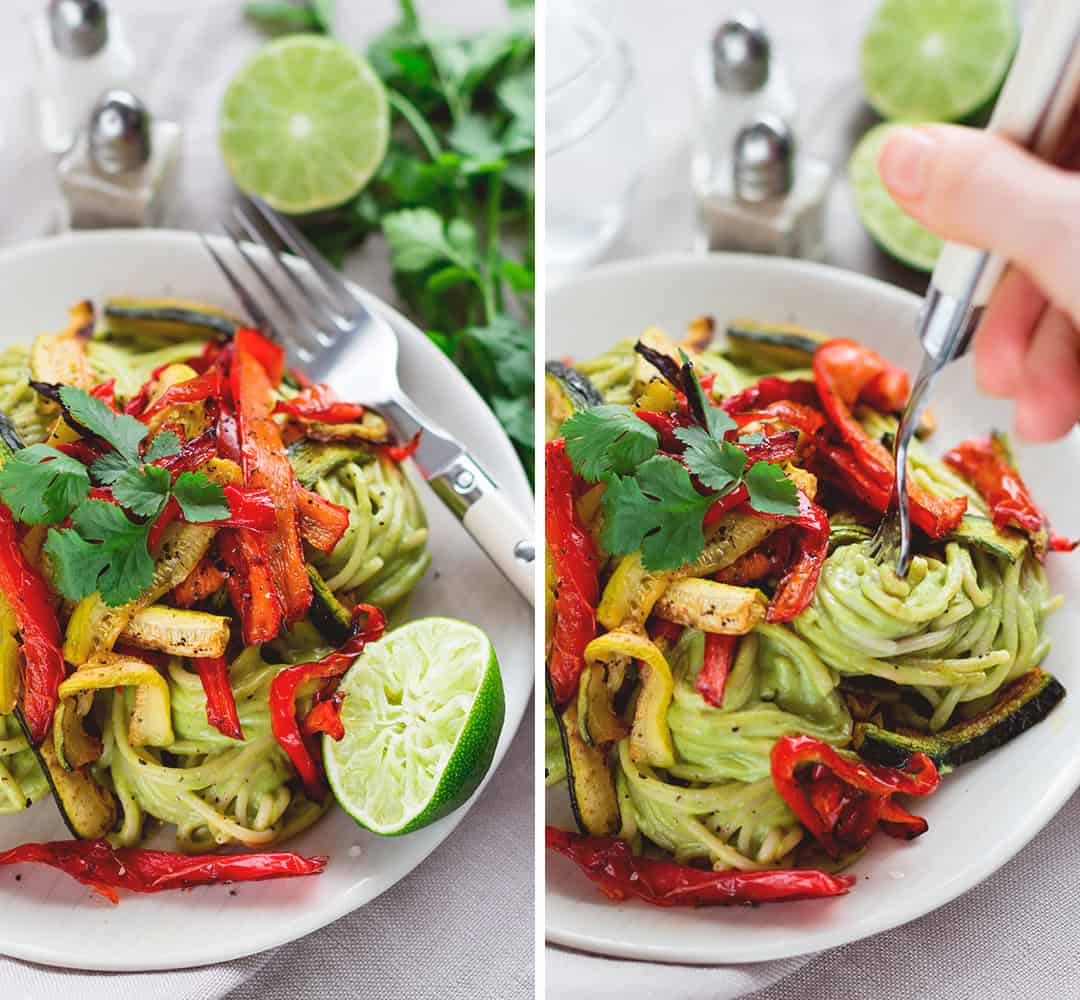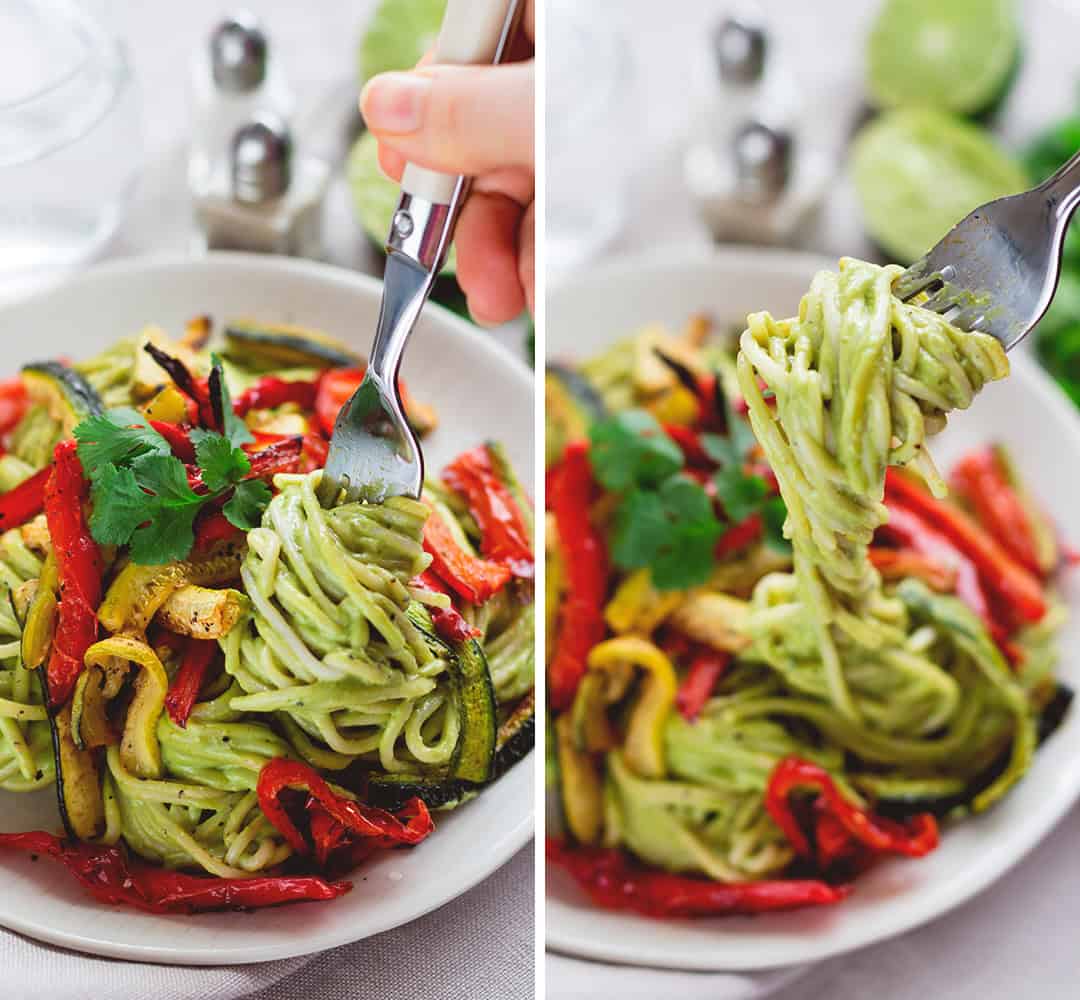 Looks scrumptious, right? The roasted veggies on top complete the dish and bring it to perfection. You don't have to use bell peppers and zucchinis if you don't have those on hand. Basically any veggies you can roast would work with this dish. Example options would be aubergine, cherry tomatoes, broccoli, cauliflower, or mushroom (I'd sautee the mushrooms instead of roasting).
You can water the sauce down as much as you like. If it seems to thick, add more water, and if it's too thin add more avocado. The recipe makes enough sauce for 4 people so cook enough pasta accordingly. In the recipe, I don't specify how much pasta you should cook because that's really up to you. Some people eat less, some more — I'm usually about the overflowing-big-bowl-of-pasta dinner if I'm being honest so it's completely up to you. You can even use the sauce for 2 people only (I know I did, but shhh) but be prepared to be very full because the fat from the avocado makes it very hearty and filling. You can divide the sauce into two if you're cooking for 1-2 people and keep the rest of the unused sauce in the fridge for up to 3 days.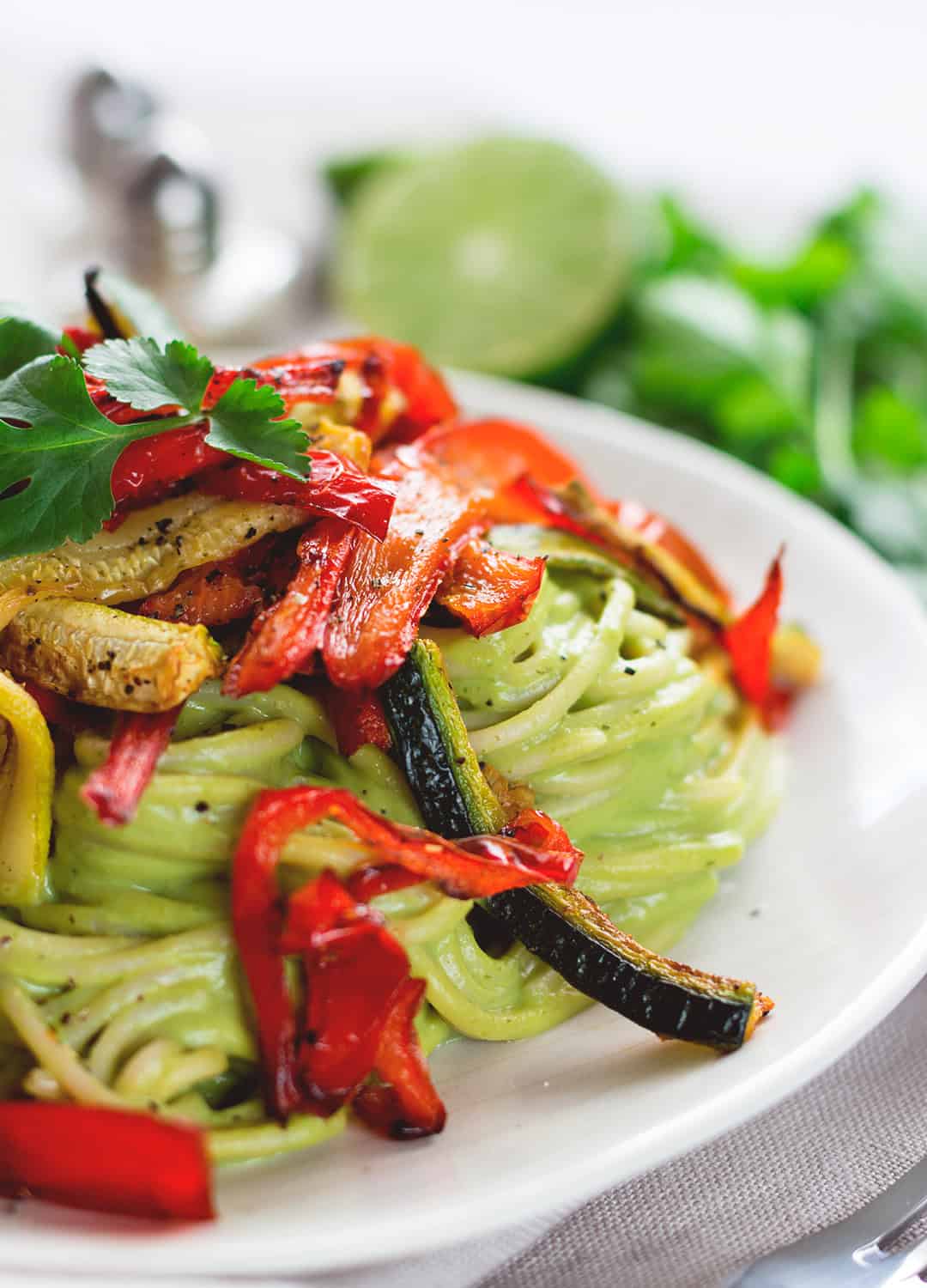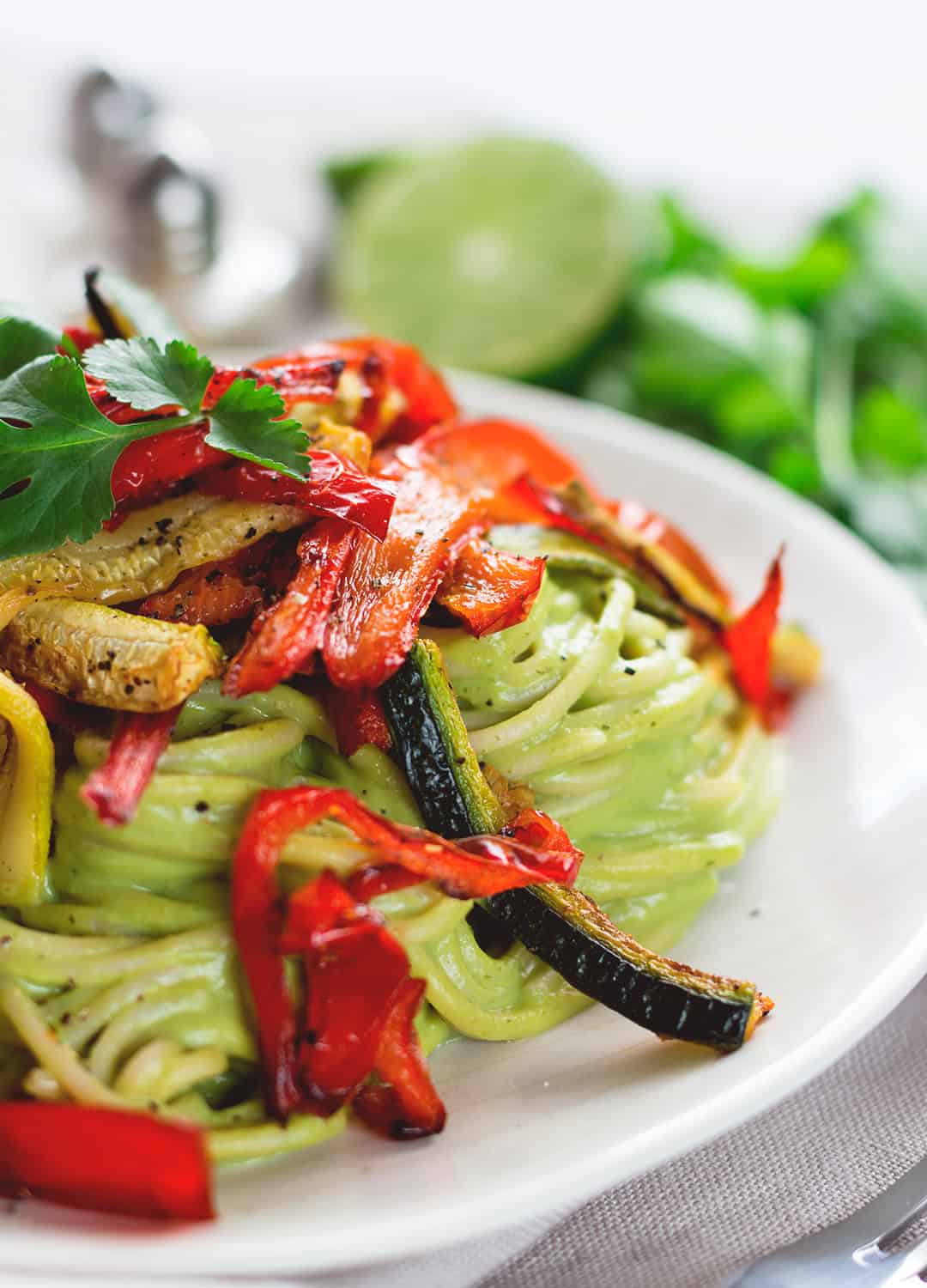 What's your favorite pasta dish? Comment below, I'd love to know! :)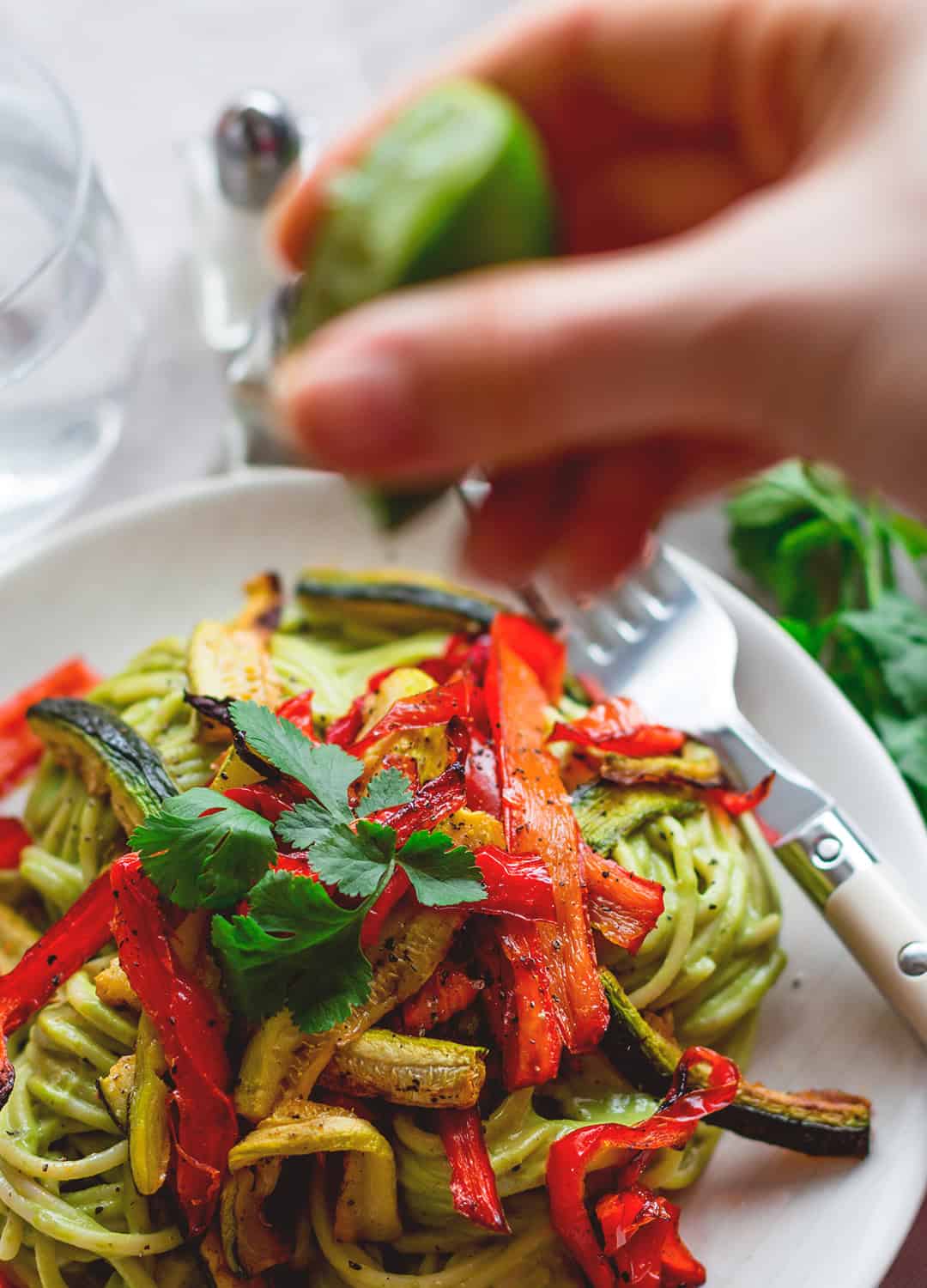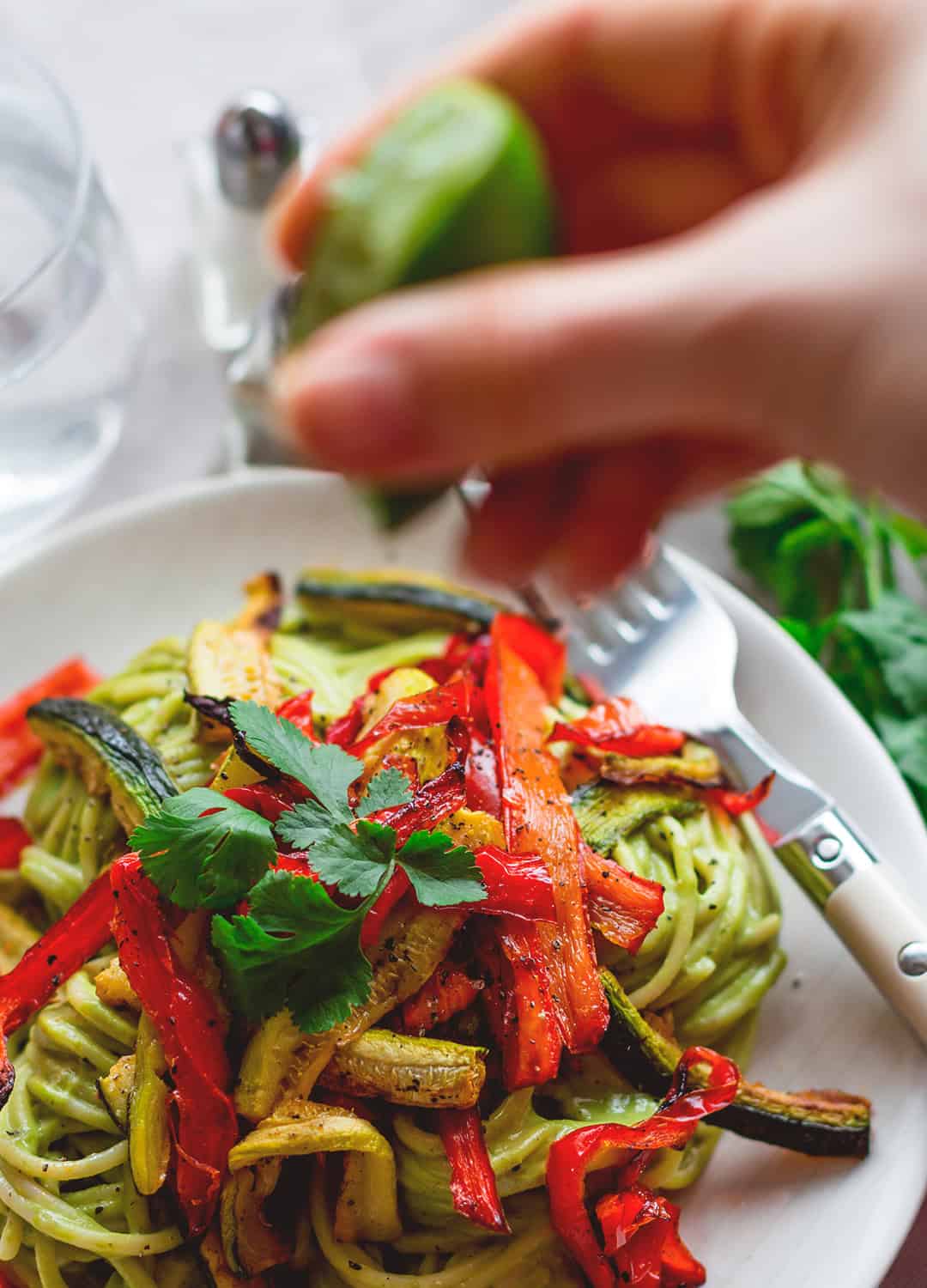 Print
📖 Recipe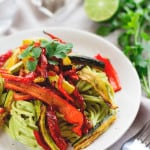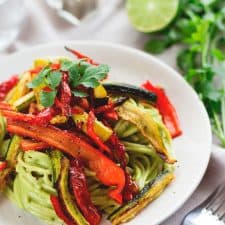 Brown Rice Pasta with Creamy Cilantro Sauce
Author:

The Healthful Ideas

Prep Time:

5 mins

Cook Time:

15 mins

Total Time:

20 mins

Yield:

2

-4

1

x

Category:

Main Dish
---
Description
Brown Rice Pasta with Creamy Cilantro Sauce. Gluten-free, vegan, and absolutely scrumptious! You can use the creamy sauce for salads or as a dip!
---
1

avocado

1 cup

packed handful cilantro leaves, thick stems removed
handful parsley or another fresh herb you have on hand (optional)
the juice of one lime

3 tbsp

olive oil

⅓ cup

water (or more depending on how thick you want the sauce to be, add less if you want it as a dip)

½ tsp

onion powder

½ tsp

garlic powder

¼

-

½

teaspoon chilli powder
pinch sea salt
freshly cracked black pepper to taste

2

bell peppers

2

zucchinis, peeled if not organic

½ tsp

coconut oil
brown rice pasta (enough for 4)
Optional add-ins:
chilli flakes for topping
cherry tomatoes (fresh or roasted)
cooked chickpeas
roasted eggplant, broccoli, cauliflower, sauteed mushroom
---
Instructions
Preheat the oven to 200C (392F).
First, make the sauce. Put all the sauce ingredients into a blender (avocado, olive oil, water, onion powder, garlic powder, chilli, salt, and pepper) and blend on high until smooth. Set aside.
Remove the seeds from the bell peppers and cut them into thin stripes. Do the same with the zucchinis (cut them as you would fries).
Line a baking tray with parchment paper. Add the bell peppers, zucchinis and the coconut oil. Place the tray in the oven for a minute or two for the oil to melt. Take it out, toss to coat everything and season with sea salt and pepper. Put back into the oven and roast for 20 minutes or until soft. When they're done, keep them in the turned-off oven so they stay warm.
Cook the pasta according to package instruction (it should be10-15 minutes).
Drain the pasta and put it into a pan along with the sauce, toss to coat well and heat up over medium heat so that it's nice and hot. Add more sea salt or pepper if desired.
Serve with the roasted bell peppers and zucchinis on top.
---