Breaking news: I'm posting yet another salad! I mean, yes, I called this a Baked Falafel Buddha Bowl but let's be real, it's a salad. Buuuuut (!!) it's a really tasty one you guys. Can you believe I'd never actually tried regular fried falafel before I made my first oven-baked falafel at home? That's a-ok though because this falafel bowl is out-of-this-world-delicious so I'm not really missing out on anything.
You need this one in your life, trust me. It features my current obsession aka Cashew Dressing which honestly brings the salad to a whole new level of awesome.
I ha some leftover black beans and spicy salsa I made for last week's post, Mexican Kale Salad with Cashew Dressing so I put them together and added them to this bowl. Such a tasty combo!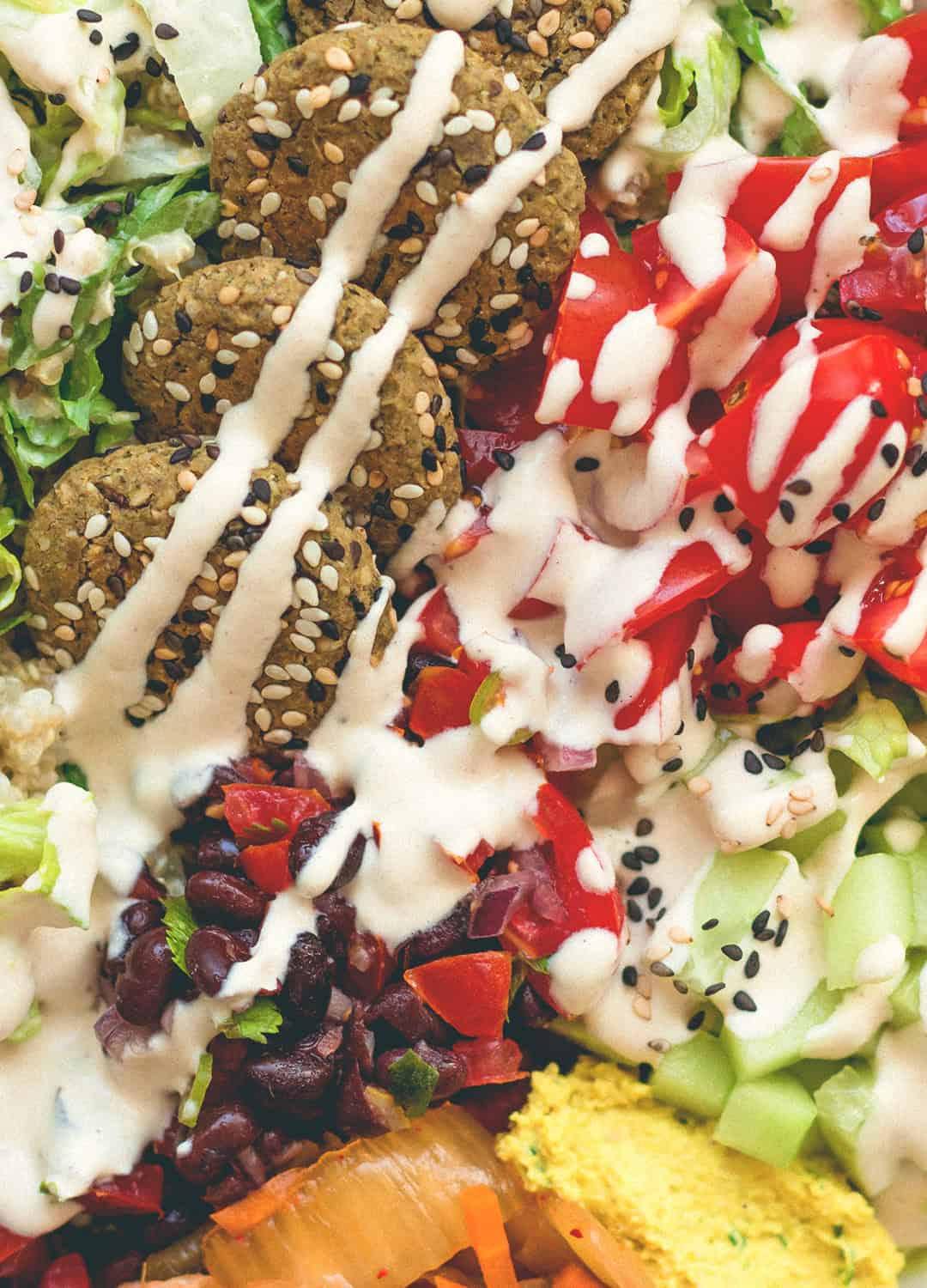 Can we take a moment to appreciate how green and pretty all the falafel ingredients below are? It features parsley, cilantro, chickpeas, sesame seeds (hulled, unhulled, and black because everything is better with multiple colors/shades), sunflower seeds, garlic, and spices. Wait, I haven't mentioned these are also vegan and gluten-free yet! Are there eggs in regular falafel? Is there flour? Wow, I probably should've researched this more haha. But you know, this is so tasty that it doesn't really matter if it's the same as the original or different. Either way, when you put it together with all the beans, salsa, hummus, kimchi and quinoa salad, it's amazing. And I bet you're gonna be obsessed with this salad just as much as I am in no time.
Omg guys! It just occurred to me that I could make a falafel wrap with all this! Oh wow, that'd be even more awesome!! T(two exclamation points because I'mapparentlyy very excited about falafel wraps. Okay, I might just have to make that right now. Or maybe later when I finish this post.
Hopefully, I don't just end up sitting in the kitchen dipping falafel in the cashew dressing. I excuse it as 'taste testing' but really it's just snacking impatiently. Before you know it, you have no falafel and you haven't even made the salad. Talk about first world problems, right?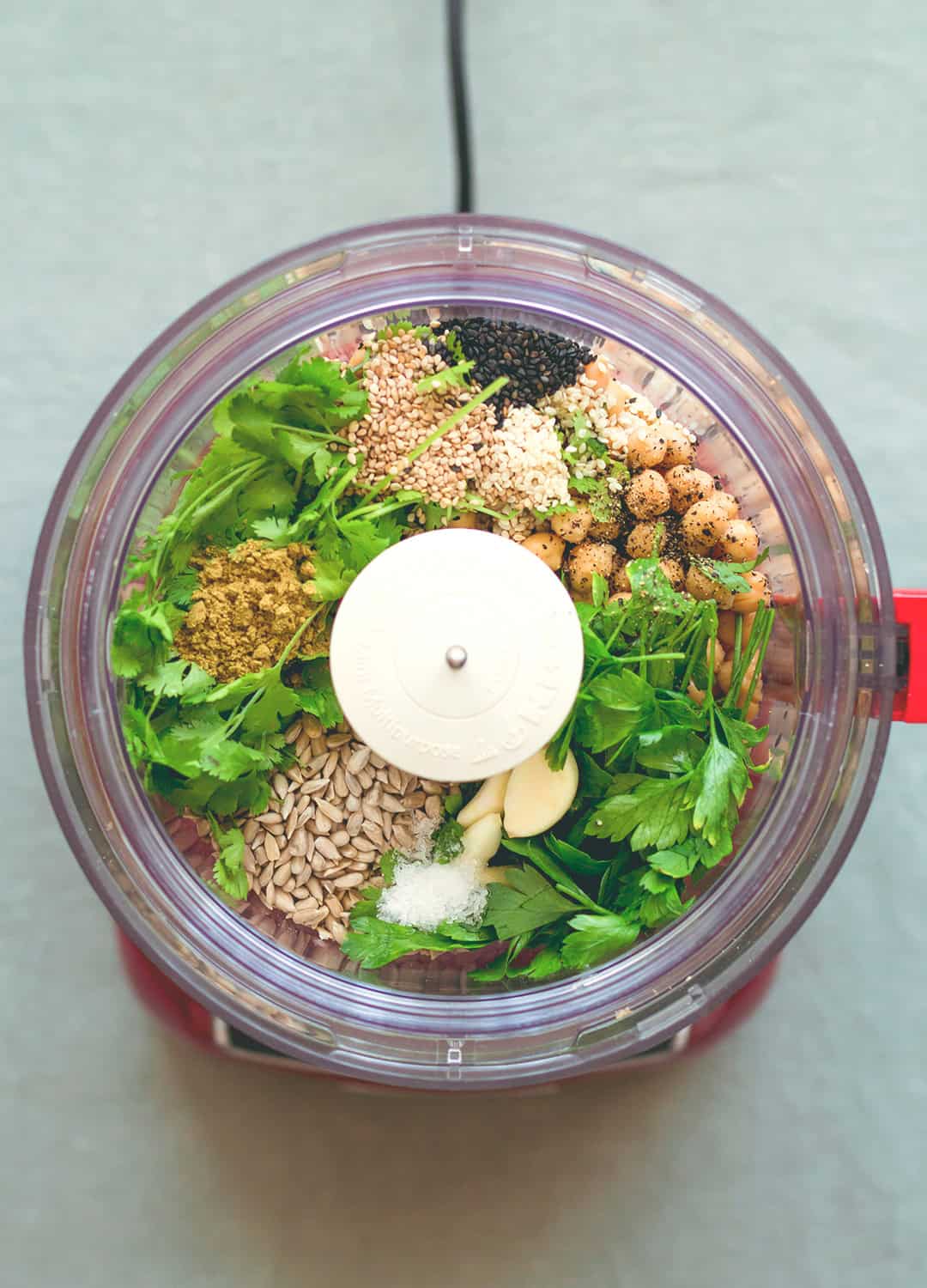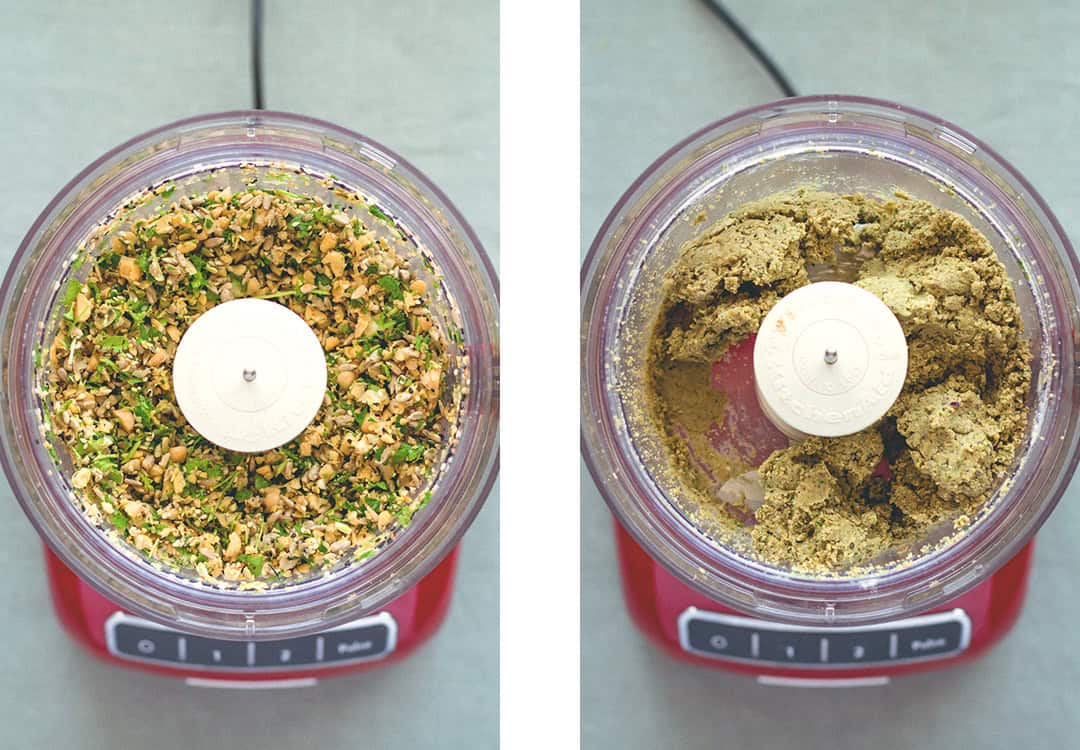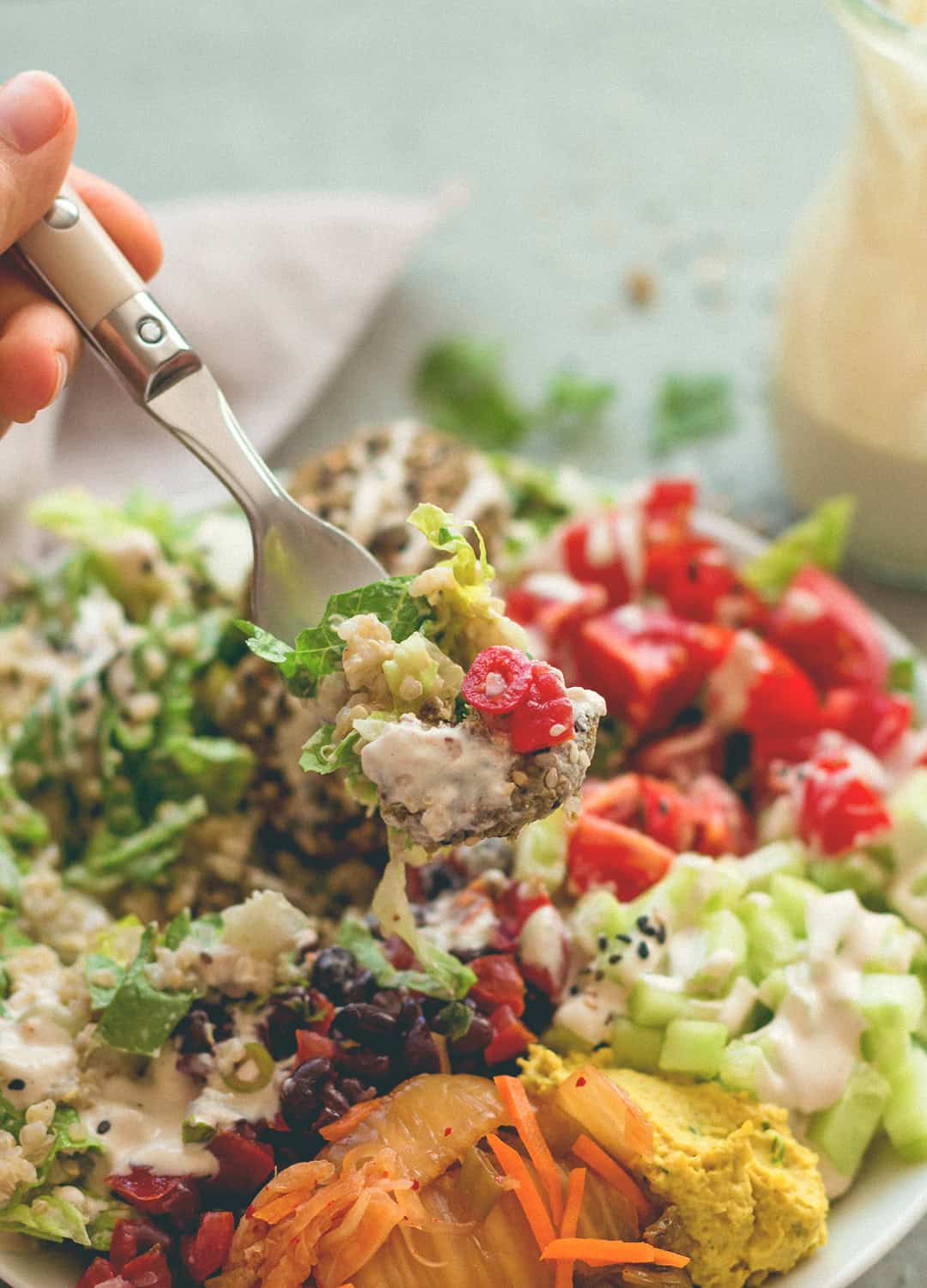 Depending on how big you make these, the recipe can yield anywhere from 10 to 20 falafel "patties". I like to make them smaller so there are more of them. Then you can just keep them in the fridge for a few days for future salads! I think you will agree with me if I say that leftovers are the best thing ever. Last week I had what seemed like a neverending supply of leftovers because I was taking pictures of future recipes all week. Needless to say, I was very happy about that.
I'm actually in the midst of planning out recipes for both November and December. I've talked about this in my last post and I'm still really excited about it. I want to start posting two recipes a week, starting November 3rd. Every Monday and Thursday there's gonna be a new post. Sometimes, it's not going to be a recipe but some other post about food, health, or wellness but there are definitely going to be two posts every single week. (let's hope I stick to it) That's why I'm trying to get two months ahead so it's easier for me to put out two recipes a week without being stressed out about it. On top of that, I'm starting a full-time job in November so I'm really interested to see how I manage everything.
That being said, I'm not going to write the posts two months in advance. I want the posts to be genuine and up to date, not two months old. Besides, now that I'm working on two months worth of content in such a short period of time, can you imagine what it would be like writing 17 posts at once? That would literally be like writing a book.
Anyway, I'm gonna let you read the recipe now and try the falafel for yourself. If you do, let me know how it was! I'd love to know :)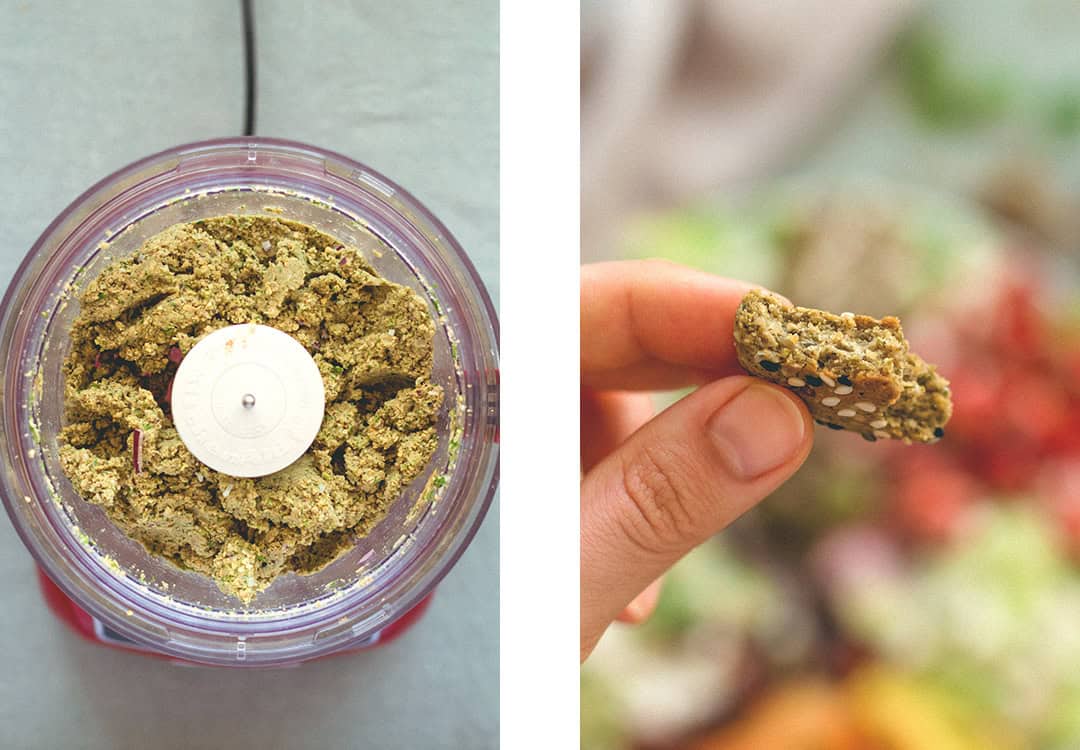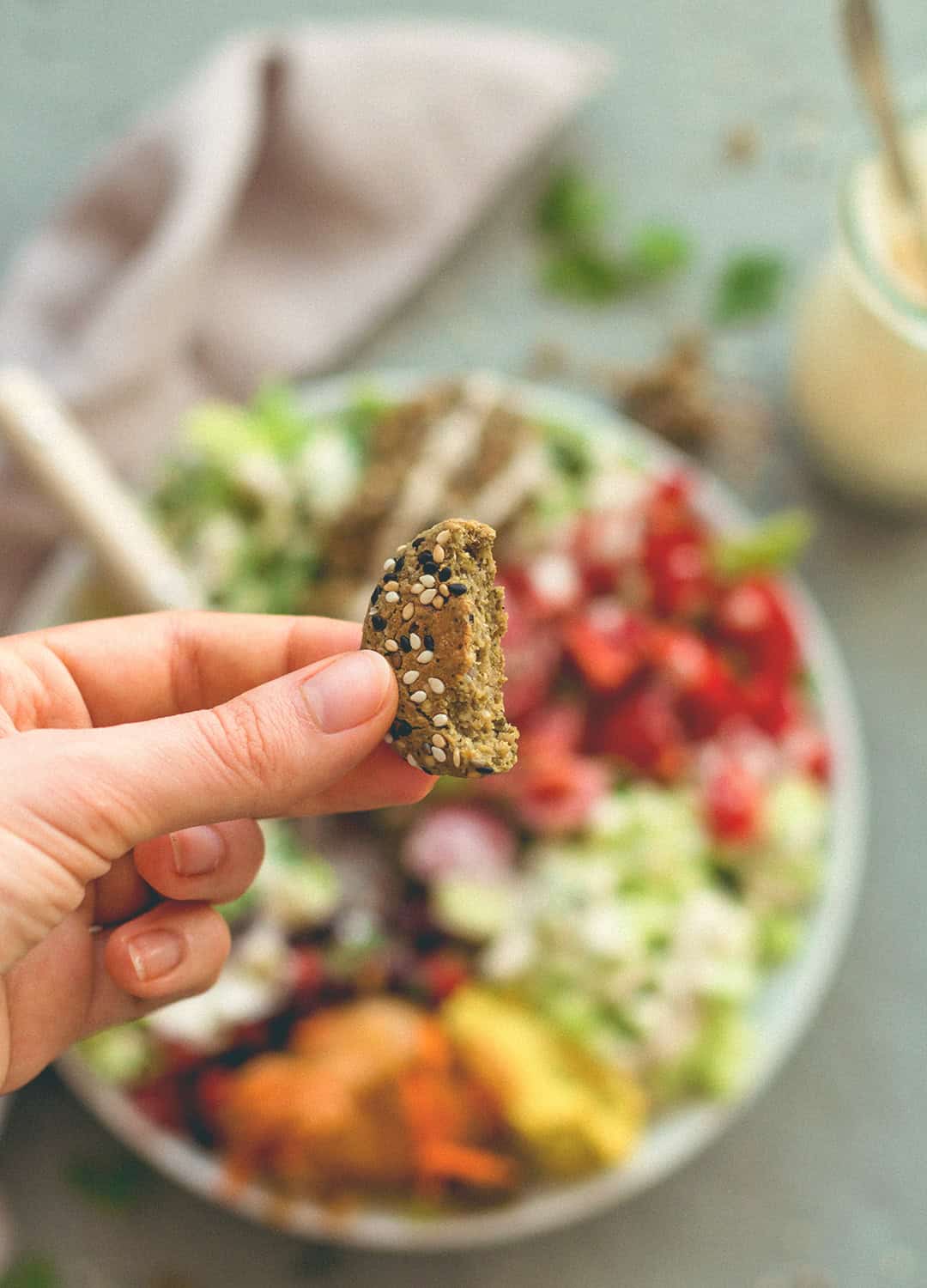 Print
📖 Recipe Baked Falafel Buddha Bowl
Author:

The Healthful Ideas

Prep Time:

20 mins

Cook Time:

30 mins

Total Time:

50 mins

Yield:

2

-4

1

x

Category:

salad
---
FALAFEL:
1

can chickpeas, drained and rinsed

½ cup

sunflower seeds

2 tbsp

hemp seeds (optional)

2 tbsp

unhulled sesame seeds (I did a mix of white hulled, unhulled, and black)

3

cloves garlic
handful fresh parsley
handful fresh cilantro

½

small red onion, chopped

1 tsp

ground cumin

½ tsp

sea salt

¼ tsp

black pepper

2 tbsp

tahini

2 tsp

olive oil (or coconut oil)

2 tbsp

flour of choice (I used buckwheat flour)
SALAD:
1 cup

quinoa, cooked and cooled (you will have leftovers but that's always a good thing)

4

-

5

cups romaine lettuce (or whatever and however much greens you want)

1

cucumber, diced

1 cup

cherry tomatoes, halved or cut into quarters
black beans & salsa (optional, I had leftover beans and salsa so I decided to mix them together and it worked out great. Salsa recipe here)
any other vegetable you like (shredded beets, carrots, chopped radishes, peppers, etc.)
guacamole (optional)
kimchi (optional)
hummus (optional)
---
Instructions
Preheat your oven to 200C (392F).
FALAFEL:
To make the falafel, add the chickpeas, parsley, cilantro, onion, cumin, salt, and pepper into a food processor and process for a minute or until the chickpeas and sunflower seeds start breaking up and forming a rough dough.
Add the tahini and oil and pulse a few times.
Add the flour and process until well incorporated.
Form small balls with your hands (about 1 tbsp) and flatten them out to create small patties.
(optional) Roll each falafel in sesame seeds to make them prettier.
Bake for 25-30 minutes until golden, turning halfway after 15 minutes.
SALAD:
To make the salad mix the quinoa and the lettuce (about ½ cup quinoa for 1 person) with 2-3 tablespoon of the dressing (for each bowl). Plate and top with the diced cucumber, cherry tomatoes, falafel, and other toppings of choice.
Drizzle with more dressing and sprinkle with sea salt and pepper. Enjoy!
---