It's that time of the year again! Cherry season's here! I have a cherry tree in my garden and I look forward to cherry-picking all year. We had sooo many cherries this year so all I did for the last week was pitting and freezing tons of cherries. Not that I complain - it's the perfect excuse to make this Cherry Compote!
I had an idea to make cherry jam but then I'd have to cut the cherries into tiny pieces which seemed like too much work after pitting about a million of them. Cherry compote came to mind immediately since you just take out the pit, half them and cook them until they're soft.
I don't know how to make an actual compote, you know, the one your grandma used to make which you can store for a year in a cool place. This is much easier and takes only about half an hour. I obviously put my healthy twist on it and skipped all the nasties to keep it guilt-free.
It's easy to make, really delicious, and it's a perfect breakfast addition!
Try it out with my Cherry Chocolate Oatmeal for double cherry happiness or with my Chocolate Oatmeal with Orange Zest! So delicious!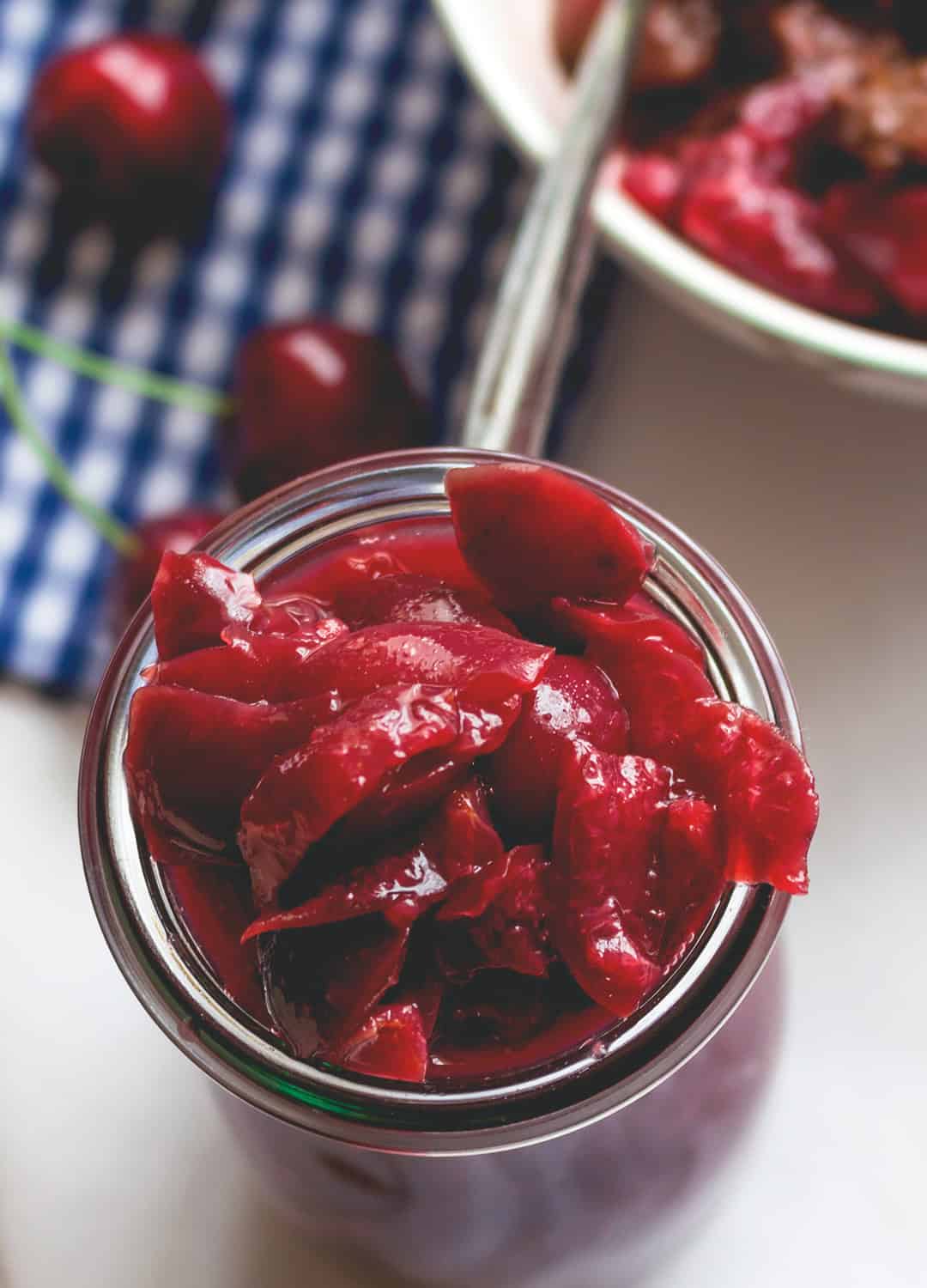 Summer is officially my favorite season! I've always enjoyed the summer, mostly because it meant 2 months of free time. When I think of summer, I think of the sun shining, bathing suits, cold swimming pools, sand, the sea, and long hot days full of relaxing.
Now that I'm not a student anymore (I might go back to school next year but that's a different story), I don't get 2 full months of free time, yet, I think I never liked summer more. I love the hot weather and the fact that I don't have to wear a ton of layers. I love that all my favorite fruits are finally in season or about to be. I enjoy how the days get longer and I can wake up to the sound of birds singing and the sun shining through my window. There's something magical about watching a sunset at 10 pm while it's still warm enough to stay in the garden. I like the smell of summer, how hot it is during the day, and chili in the evening.
All of that might be too idyllic or cheesy for some people, but I really enjoy the little things. Not everyone is near nature; if you live in Midtown, Manhattan, you probably won't hear birds singing in the morning or "smell summer" but you get the idea.
If you do live in a big city, you should definitely get out into the wilderness at least for a little bit. Away from people and all the stress. It recharges your batteries and it's a great way to destress.
I know this isn't supposed to be a post about nature and summer, but I'm writing this at our cottage house, next to a forest, away from the city and I couldn't help it. It's sooo quiet here, so peaceful.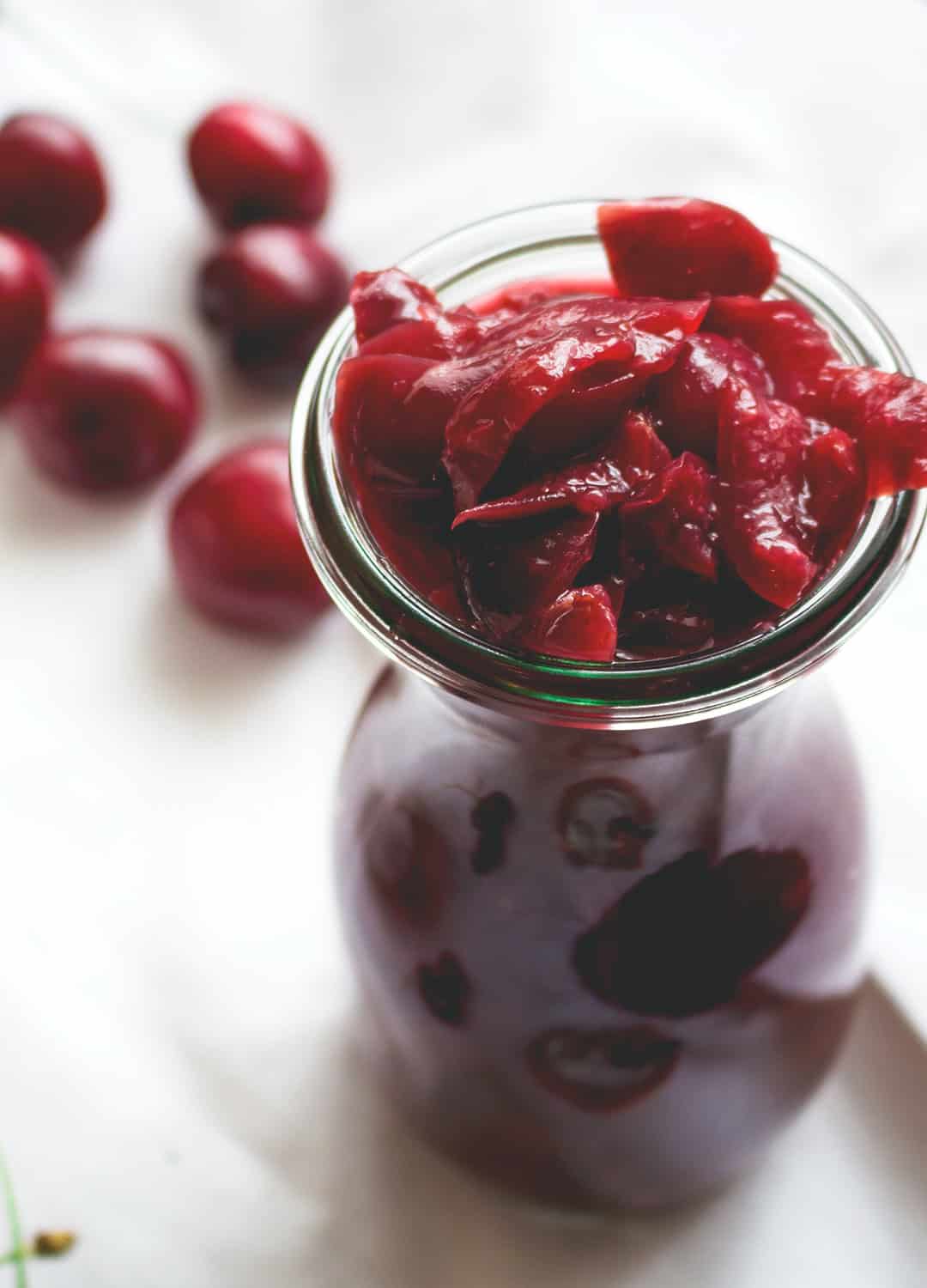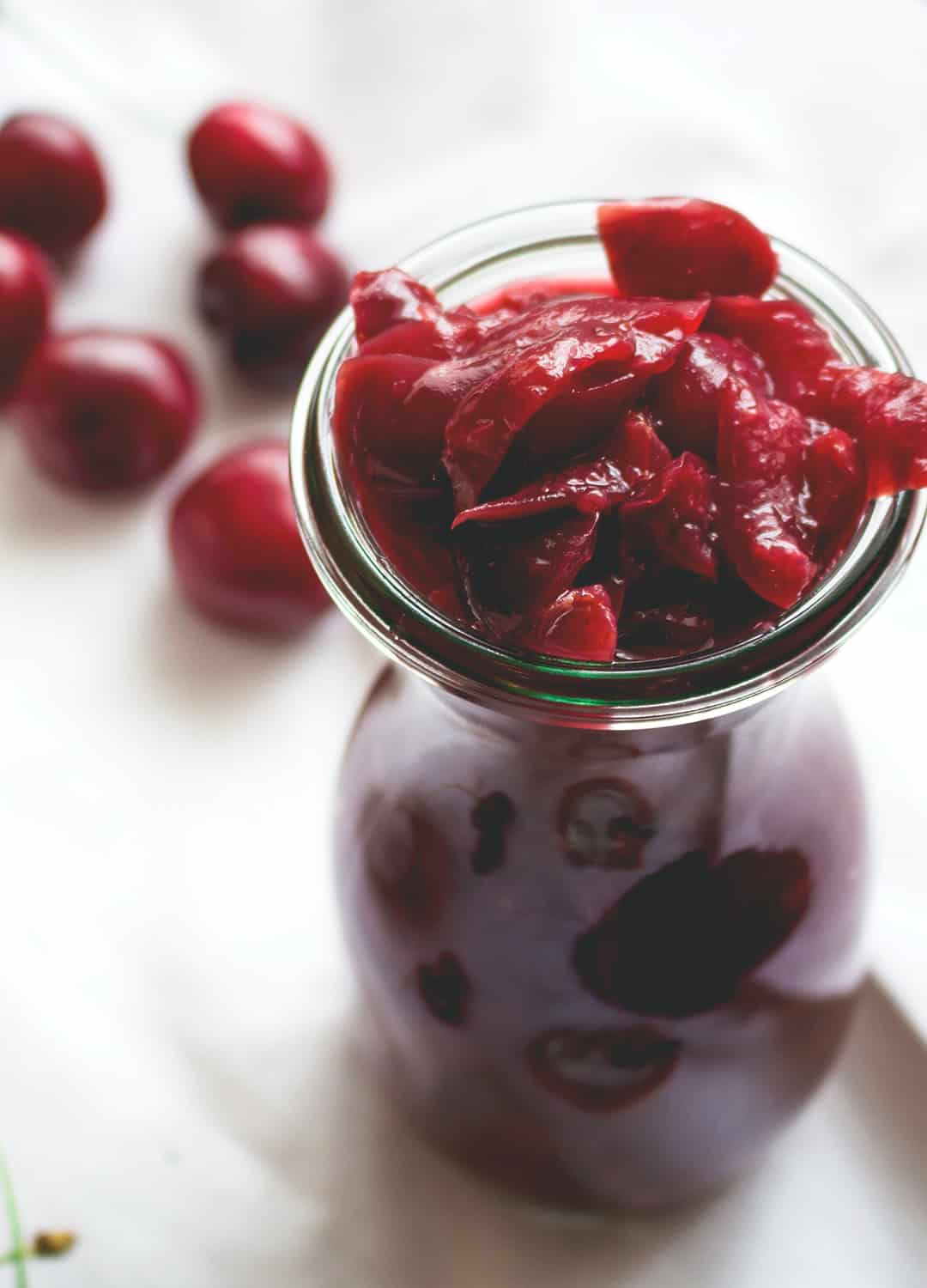 I usually go away to the sea for a summer vacation but since this month I had neither the money nor the time, money being the main reason, I stayed in the country and went to our cottage house instead. I would be lying if I said the cherry season was also a reason I stayed in the country... Unintentionally, I chose my vacation at the exact time when cherries usually start to ripen, so I just couldn't leave, right? I was in New York last year during the cherry season, so I just couldn't do it to myself and miss it again this year.
This compote is extremely easy to make—every recipe of mine is, really. I just can't be bothered if a recipe asks for hours in the kitchen or a million ingredients. I'm really lazy, I know. I'll add it to my list of problems I don't care about along with my alarming obsession with cherries.
This cherry compote is sweetened with only 1 tablespoon of coconut nectar which I find is just enough. I like the sour taste of the cherries when they're cooked so I didn't want to make it overly sweet. Coconut nectar is a sweetener from the coconut flour. It's basically the same thing as coconut sugar, only in liquid form.
Coconut nectar is really really really sweet and a little goes a long way. If you want it sweeter, add more to your liking but start with 1 tablespoon first and taste it before adding more.
If you don't have coconut nectar, you can use coconut sugar, maple syrup or honey instead. I'm not sure about the ratio, though. I'd add 1 tablespoon of any of those and add more if necessary.
Print
📖 Recipe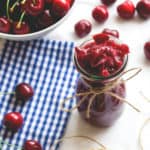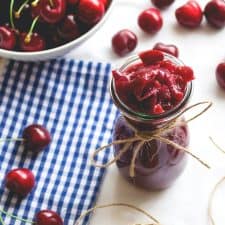 Cherry Compote
Author:

The Healthful Ideas

Prep Time:

10 mins

Cook Time:

25 mins

Total Time:

35 mins

Yield:

2 cups

1

x

Category:

Compote
---
Description
This cherry compote is easy to make and really delicious. It's sweet just enough from the coconut nectar, with the sour cherry taste still there. It's great for topping oatmeal, pancakes, or ice cream. If you want to make a bigger batch, simply double the recipe. I know I would!
---
3 cups

cherries, pitted, halved
inch of sea salt

1 tsp

cinnamon
a squeeze of lemon (about 1tbsp)

1 tbsp

coconut nectar (maple syrup, coconut sugar, or honey)
---
Instructions
Wash all your cherries and carefully remove all the pits.
Keep them halved or cut them into smaller pieces, it's up to you, I tried it both ways and liked both batches the same.
Add your cherries into a sauce pan and bring to boil over medium high heat.
When it starts cooking, bring down the heat and let it cook over low to medium high heat for 15 minutes.
Keep stiring it to avoid cherries sticking to th bottom.
After 15 minutes, when the cherries soften up and release their juices, add the rest of the ingredients and mix well.
Cook for another 5-10 minutes until the compote turns burgundy red and the cherries are really soft.
Taste and add more sweetener if necessary.
Cool down completely and pour into an air-tight glass jar.
Store in the fridge for up to 1 week.
---
Keywords: compote, cherry