This is one of those lucky recipes where you just throw stuff together one day and it turns out absolutely delicious.
I was trying to come up with what to make for dinner one day and I couldn't think of anything because I didn't have much in my fridge to begin with. All I had was a butternut squash and some onions. I didn't have broth or plant milk to make soup, I didn't have any other fresh vegetables either. But then I found some chopped canned tomatoes in my cupboard and an idea to make risotto striked me. I hadn't had risotto for sooooo long before that. I cook rice as a side all the time but I don't make actual risotto very often. And this risotto is one of the best I've ever had, if not THE best.
It's creamy, delicious, hearty, satisfying and it's actually also pretty easy to make.
All I had that day was the butternut squash, a red onion, canned tomatoes, red rice, and some spices. That's it. You can get creative with this dish and add any vegetables or legumes you have on hand that'd taste good in it. You can add canned chickpeas or beans, fresh herbs, you can roast some bell peppers and zucchini along with the squash — it's up to you and what you have in the fridge. Later on, when I tested the recipe again, I added spinach to it which made the whole thing even tastier. Besides, it's always good to sneak in greens whenever you can! :)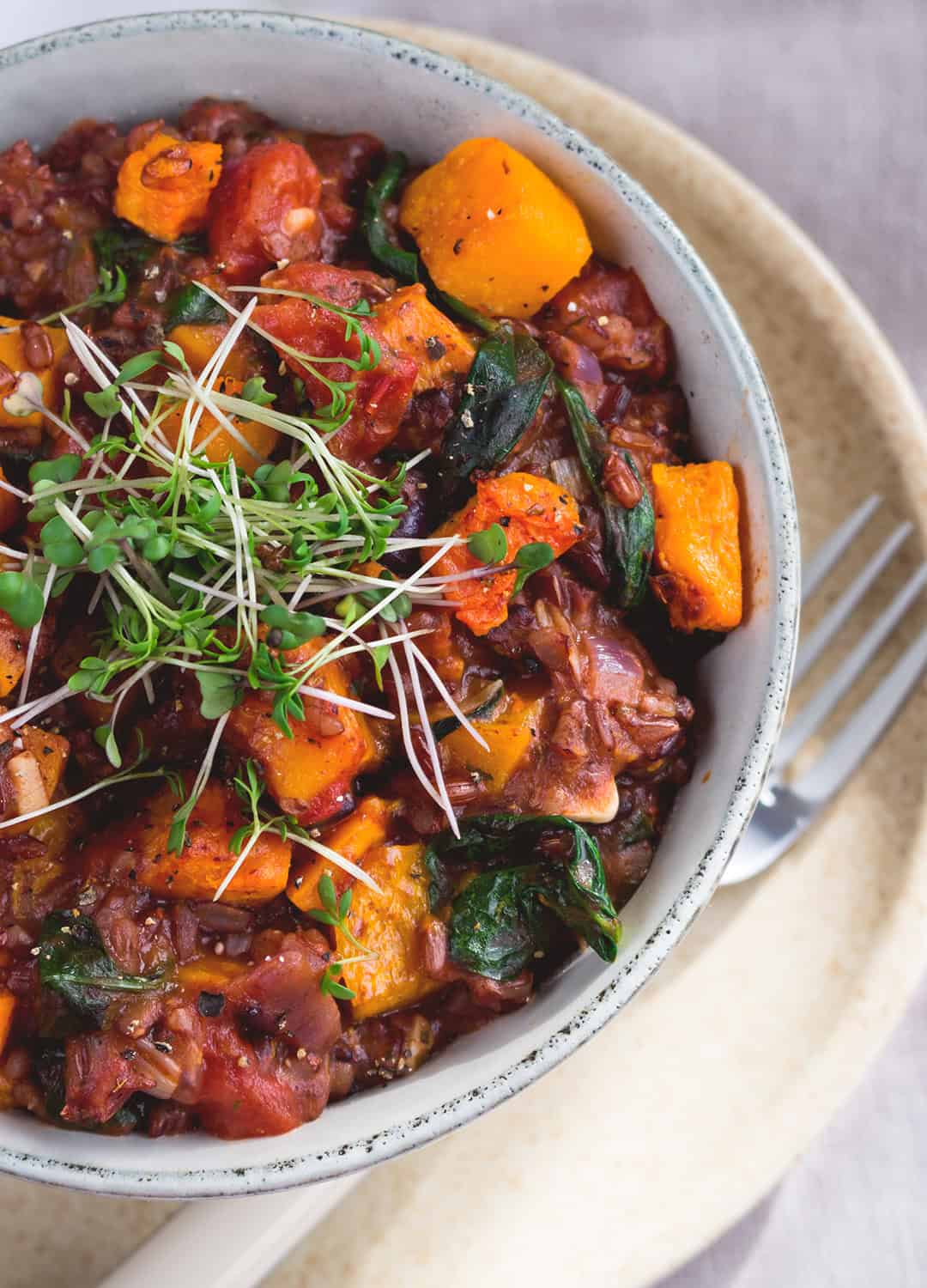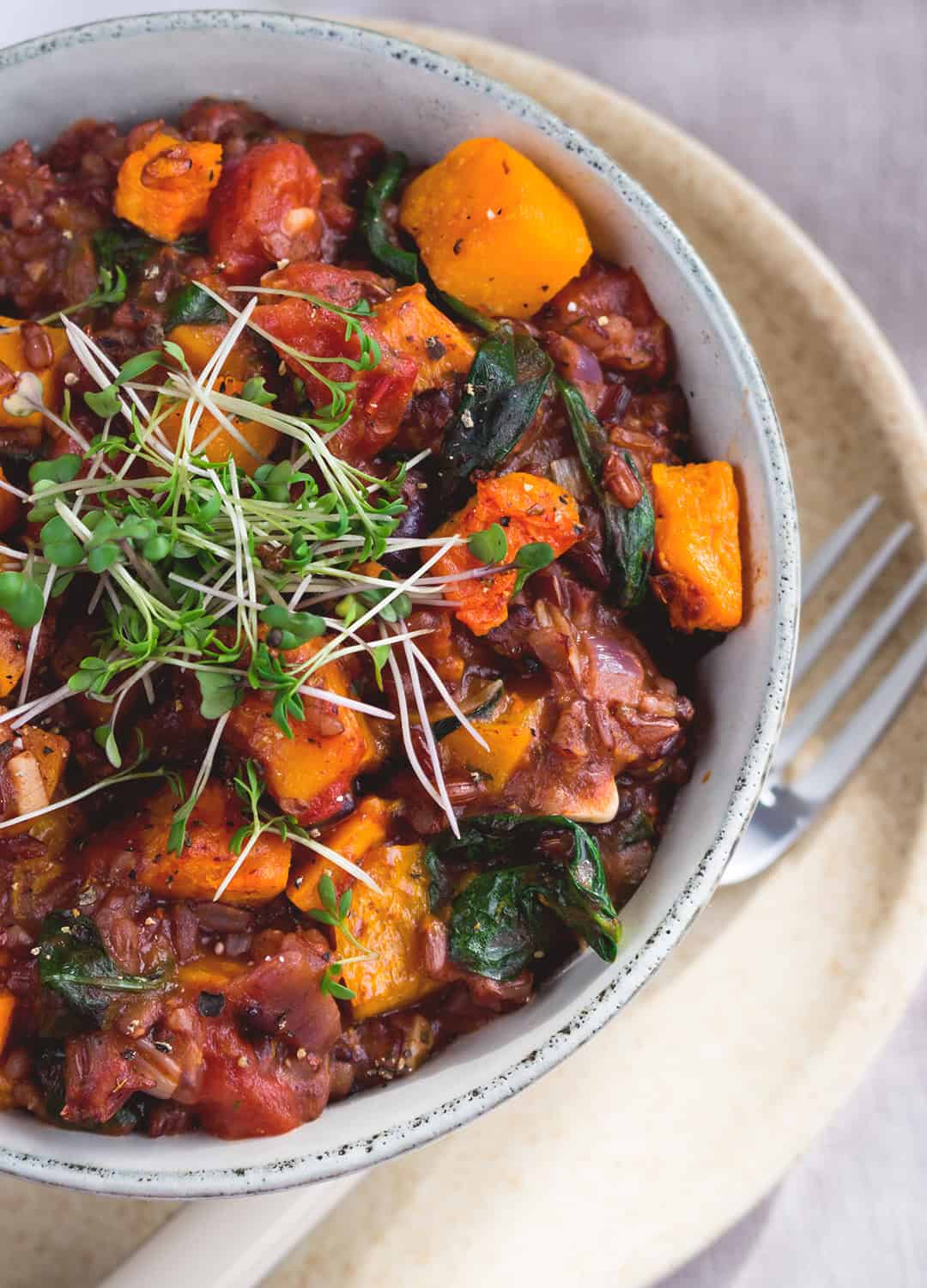 Apart from talking about this delicious risotto, I also wanted to mention a small (or maybe it's big? medium?) change I made on the blog last week. As much as I loved the slider, it tends to confuse people and most of you don't see the first post when you load up the page — you only see the slider. I asked around and someone mentioned that it seemed like there aren't any posts below the slider so most people don't even scroll down. So, as you can probably tell, I got rid of it. The latest posts can be found listed in the sidebar under "latest posts" if you don't want to scroll down the front page through the full-sized pictures. I also got rid of the posts being listed on the front page so the pictures are all full size now again. I hope you like the change and I hope it helps you to navigate the site better. I even think it loads faster for you now that there is no slider! Wohoo!
Anyways, let's move on to food! YUM.
The number one thing I love about this dish is how versatile it is. You can add basically any dried herb you like and have, if you don't have fresh onion and garlic, you can add powders, you can even skip the butternut squash altogether and roast a few bell peppers, zucchini, or even some aubergine if that's what you have! It obviously ends up tasting different, but I love meals you can add anything you have leftover to. It's a great way to use up random veggies you'd otherwise throw out! Do you have a few random salad leaves left? Perfect! Chop them up and add them to the risotto as a side. You can crack fresh pepper and sea salt on the lettuce, add a splash of olive oil and BAM! Delicious lunch or dinner is ready!
What's also great about this is that there are always leftovers when you make this! That is unless there's 4 or more people in your house. If that's the case, you'll probably want to double the recipe. That way you have heaps leftovers for the whole family and the next day you don't have to cook at all! Isn't that the dream? To have always homemade food on hand but not having to cook (and CLEAN) anything? Leftovers are simply the most satysfying part of cooking something, right?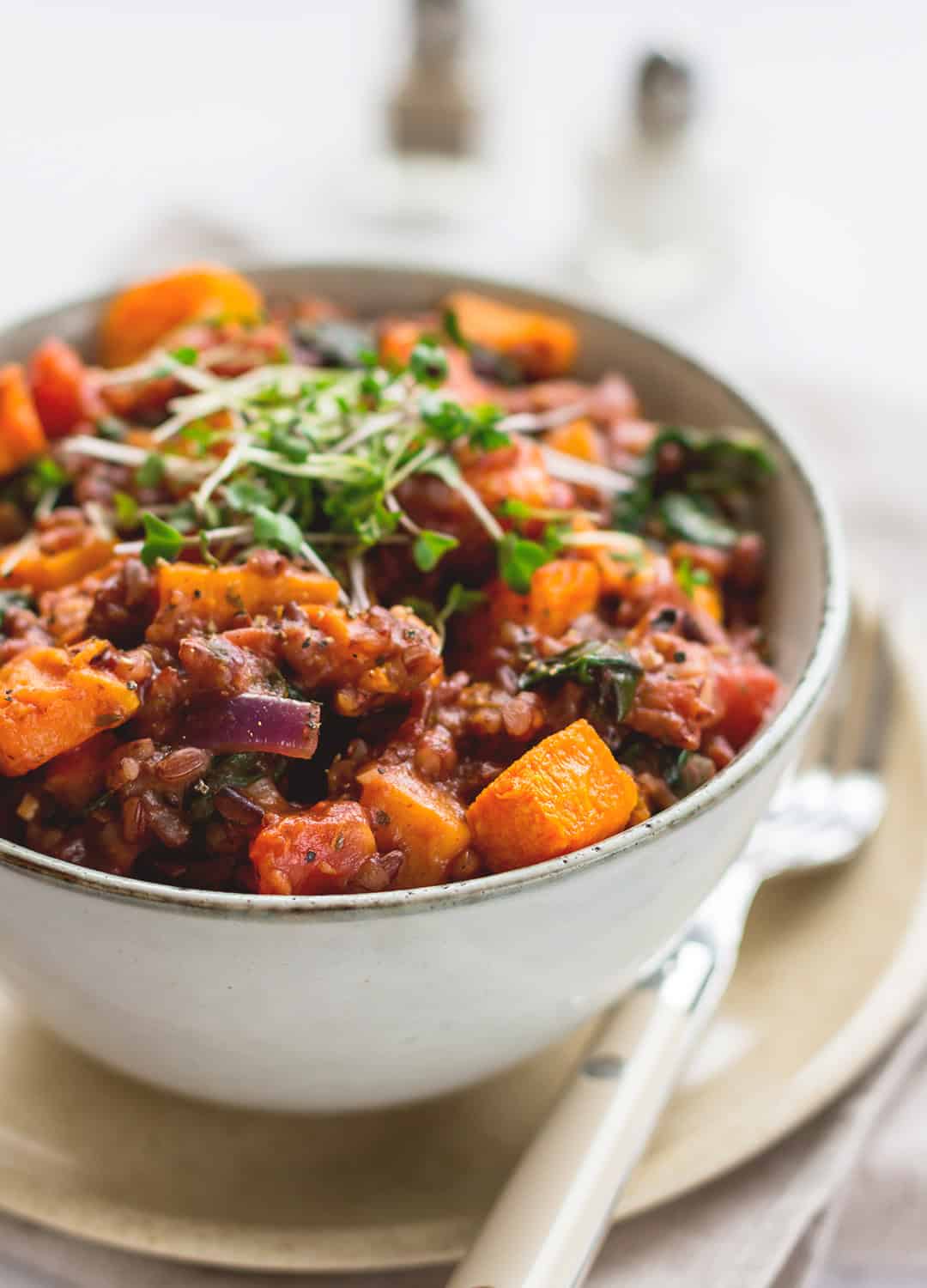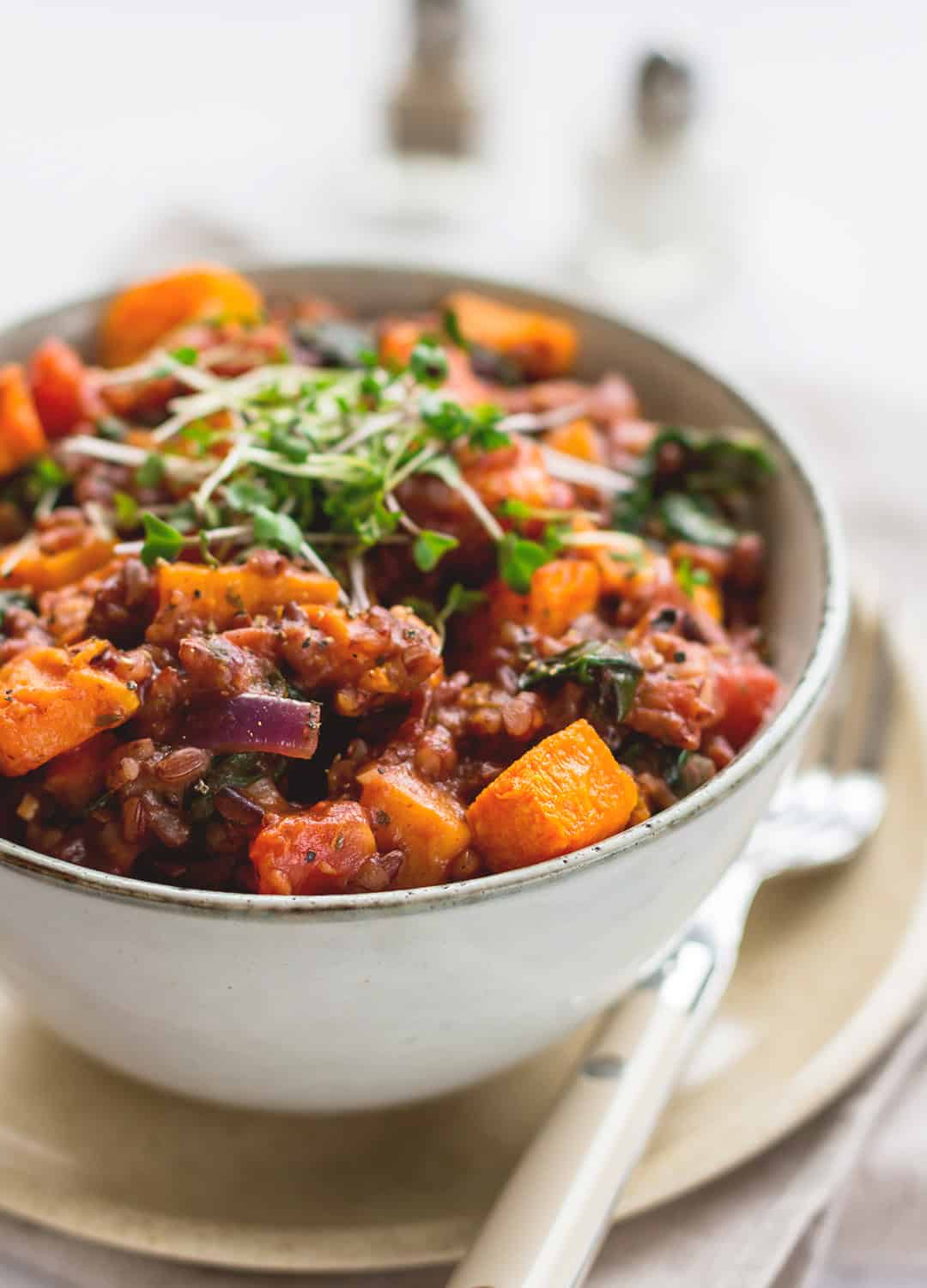 This dish is so simple it's ridicuous.
Fist you start by cooking the rice.
While that's cooking you wash the butternut squash, remove the seeds, dice it up, put it on a baking sheet, add coconut oil, spices, and roast it for 40 minutes.
Then you sautee the onion and garlic in a big pot, add the rice to it when it's done, as well as the canned tomatoes. Then you mix in the spinach, cover with a lid and let it wilt down. When that's done, fold in the butternut squash and voila, delcious dinner is ready to be served! :)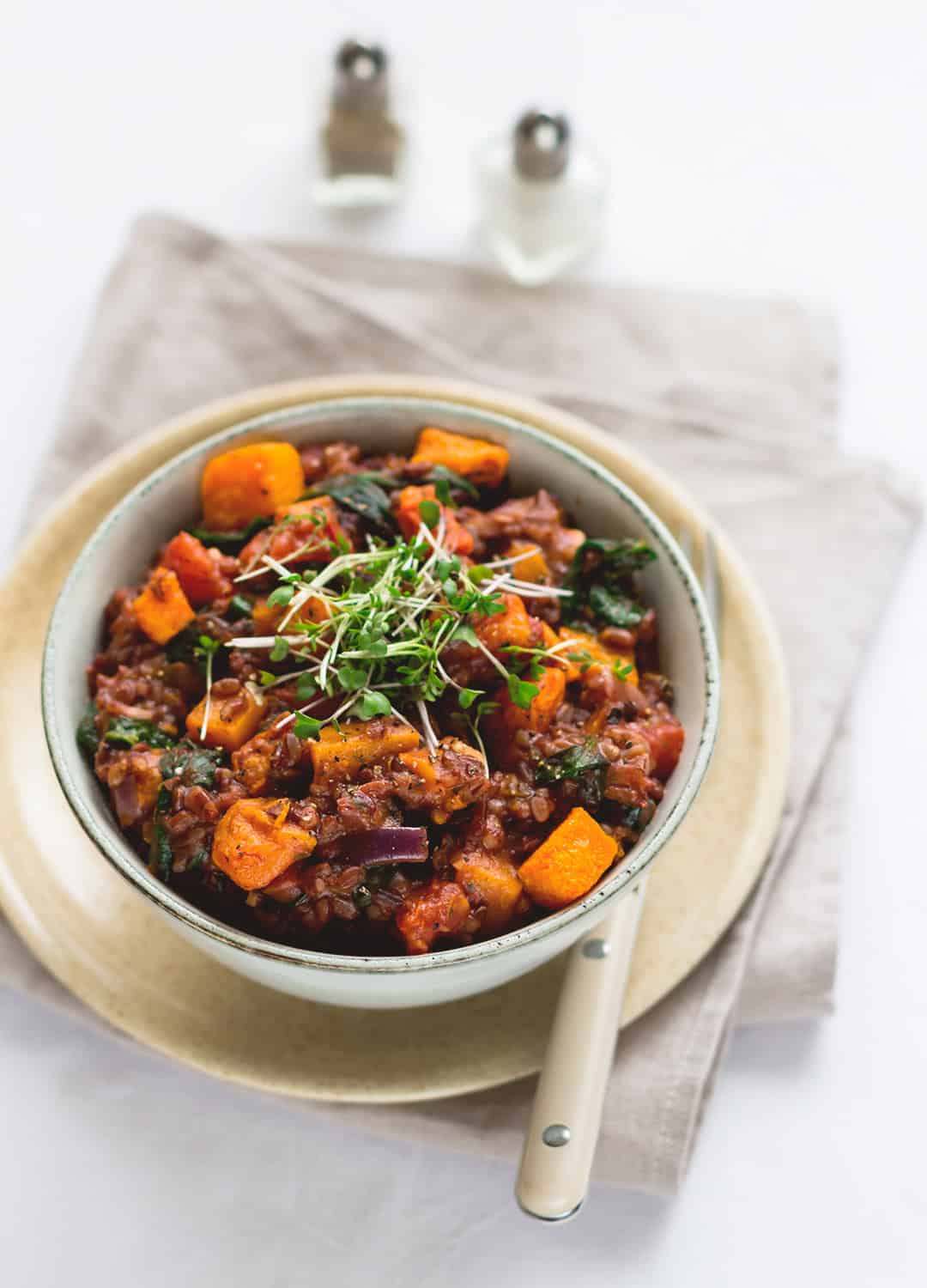 Print
📖 Recipe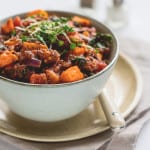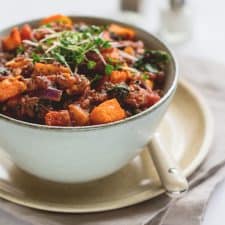 Tomato Spinach Risotto with Butternut Squash
Author:

The Healthful Ideas

Prep Time:

15 mins

Cook Time:

50 mins

Total Time:

1 hour 5 mins

Yield:

4

-5

1

x

Category:

Main Dish
---
1 cup

red rice

½ cup

black rice (or more red rice)

3 cups

water

1 tsp

olive oil (for the rice)

2

small or 1 big butternut squash (I used two, mine were

1000g

each, it makes about

7 cups

when diced)

1 tsp

coconut oil (for the butternut squash)

1 tsp

ghee or coconut oil (for the onion)

1

medium red onion, finely chopped

4

garlic cloves, chopped

2

cans chopped tomatoes (each

400g

- choose only 100% tomatoes with no additives) or about 7 medium tomatoes cooked, peeled, and chopped

2 tsp

dried oregano

1 tsp

dried basil

1 tsp

dried parsley

3 cups

firmly packed baby spinach
sea salt and pepper
sprouts of choice (optional, for topping)
---
Instructions
Preheat your oven to 200C (400F).
Rinse the rice well and place in a small pot along with the water and a good pinch of sea salt.
Bring to a boil, cover with a lid and lower the heat to low. Let it cook for 30-40 minutes. When done add the olive oil, stir and cover with the lid and let it sit for about 10 minutes.
While the rice is cooking, peel and dice the butternut squash and spread it on a baking tray lined with baking paper.
Sprinkle with sea salt and pepper to taste and add 1 teaspoon coconut oil in the middle.
Put the baking tray into the oven for a few minutes to melt the coconut oil.
Take it out of the coven and toss with wooden spoons so that everything is evenly coated. Place the tray back into the oven and bake for 30-40 minutes or until tender.
Heat the other 1 teaspoon of coconut oil or ghee in a big pot and add the chopped onion. Cook for 4-5 minnutes until translucent. Add the chopped garlic and cook for 1 more minute.
Add the rice into the pot along with the chopped tomatoes and ¼ water*.
Add the dried herbs, sea salt and pepper and mix well.
Stir in the spinach, cover with a lid and simmer for a 2-3 minutes until the spinach wilts down.
Fold in the butternut squash making sure not to mash it too much.
Serve with sprouts on top. Store leftovers in the fridge for 2-3 days.
---
Notes
You can also use fresh herbs instead of dried, but this is a winter dish so I opted for dried since most people don't have fresh herbs this time of the year. If you're adding fresh herbs, add twice the amount or more to taste.
* The ¼ cup water is there because I used it to get as much of the juice out of the tomato cans as I could so nothing would go to waste.