Do you love cooling off in the summer with delicious popsicles but try to not eat too many because they contain too much sugar? I've got the perfect solution for you! Make yourself delicious homemade vegan popsicles this summer and eat as many as you want guilt-free, seriously!


Store bought popsicles usually have too much white sugar in them, "natural" or artificial flavoring and coloring, and even preservatives. Not to mention GMO high-fructose corn syrup. How to Make the Best Healthy Vegan Popsicles ebook is full of popsicles that are either naturally sweetened, or sweetened with a touch of maple syrup.
The recipes are mostly raw and can be made 100% raw if desired. Just substitute the maple syrup with something like coconut sugar, coconut nectar, or agave.
What you'll get:
1) 16 healthy 100% vegan and absolutely delicious popsicle recipes
2) 1 bonus recipe for Raw Chocolate Sauce (because chocolate covered popsicles = heaven)
3) Information about the ingredients used in this ebook: benefits, how to use, what to choose when buying
4) tips & tricks to make the perfect popsicles
5) equipment you'll need and some recommendations of what I use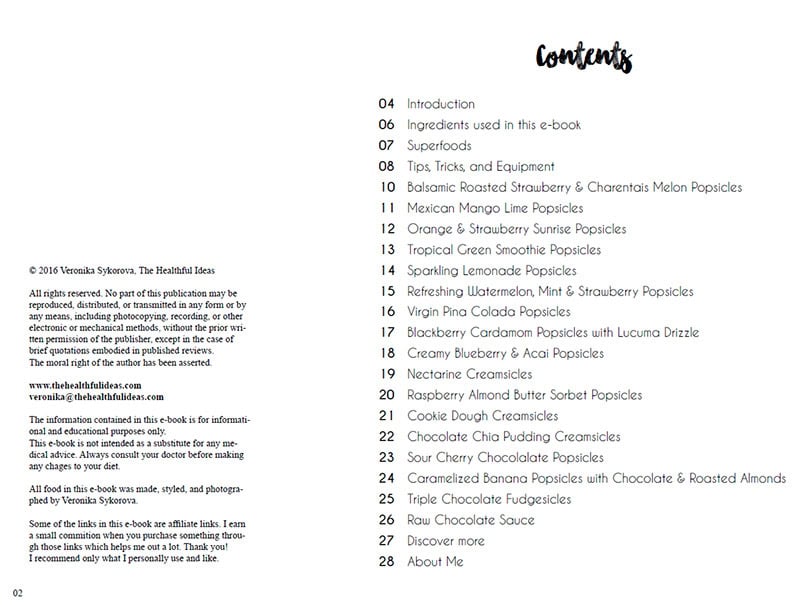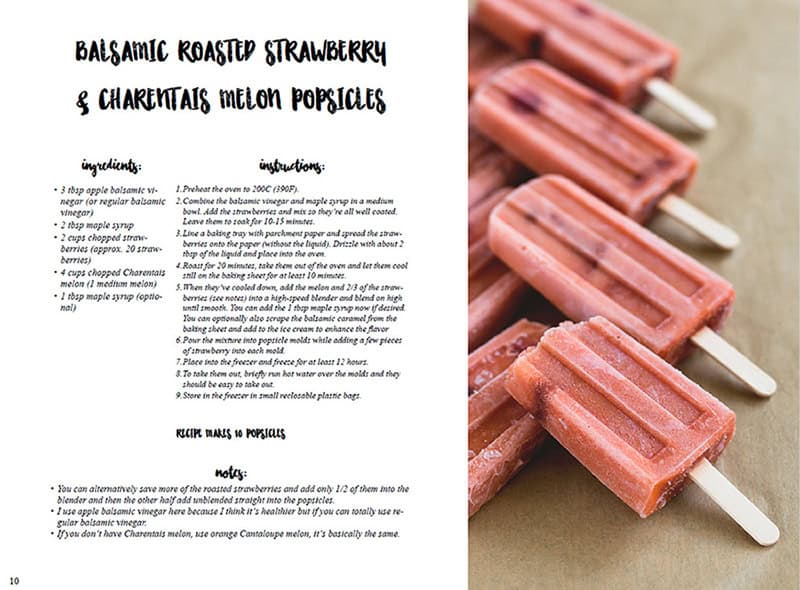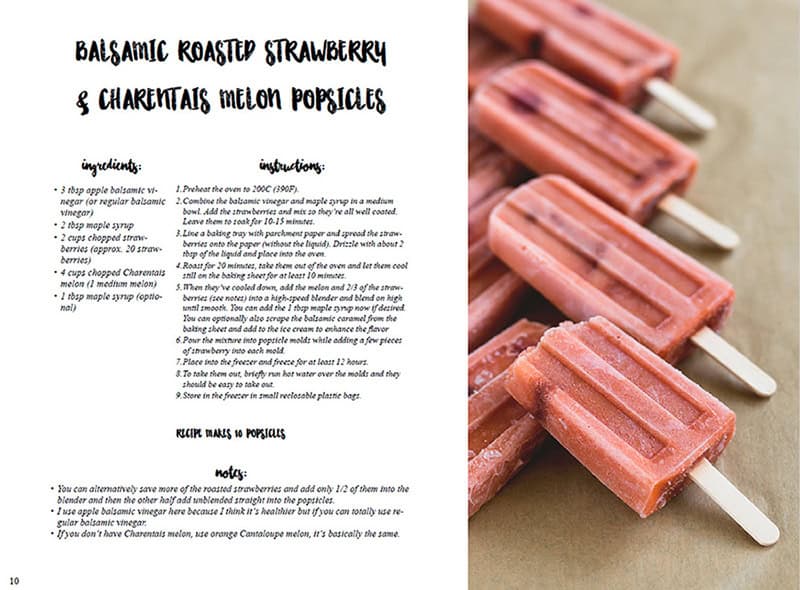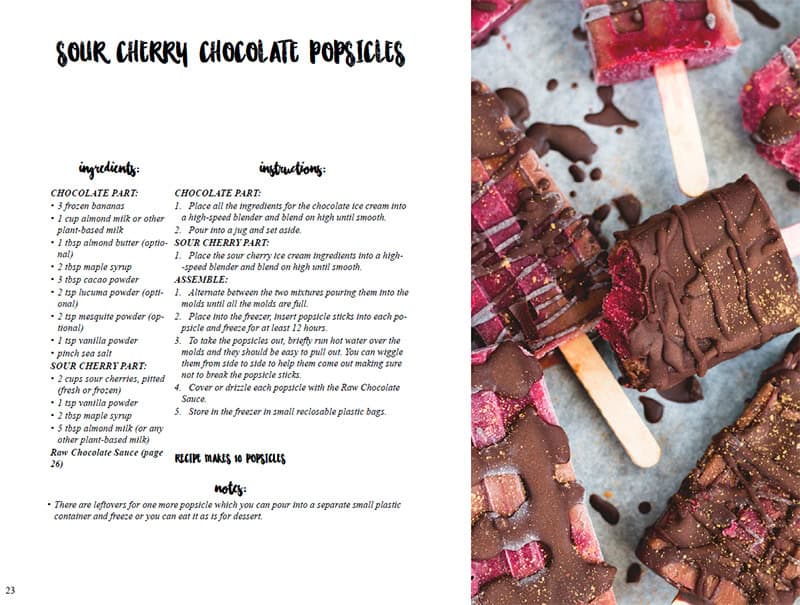 What kind of popsicles can you expect?
• 6 100% fruity popsicle recipes most of which aren't sweetened with anything but fruit (perfect for summer!)
• 5 creamy fruity popsicles (mostly fruit but with added plant-based milk to make it extra creamy, satisfying, and delicious)
• 5 creamy chocolatey popsicle recipes which are all my favorite (you need the Cookie Dough Popsicles in your life—they are life changing!)
A taste of the recipes you'll find in this ebook:
• Orange & Strawberry Sunrise Popsicles
• Sparkling Lemonade Popsicles
• Mexican Mango Lime Popsicles
• Balsamic Roasted Strawberry & Charentais Melon Popsicles
• Blackberry Cardamom Popsicles with Lucuma Drizzle
• Raspberry Almond Butter Sorbet Popsicles
• Cookie Dough Creamsicles (you really do need these in your life, I mean, it's HEALTHY cookie dough! Mind = blown)
• Chocolate Chia Pudding Creamsicles
• Sour Cherry Chocolate Popsicles
• Caramelized Banana Popsicles with Chocolate & Roasted Almonds
• and more!
All the recipes are super versatile. If you don't have a certain ingredient, you can either skip completely or substitute it with something else most of the time. There is no right or wrong. If you want some flavors to stand out more in a certain recipe, go for it! It's not baking so it's usually easy to adjust the ingredients to your liking, it's almost impossible to mess it up!
For some of the recipes you only need two or three ingredients, while others are fancier, for example, the Balsamic Roasted Strawberry & Charentais Melon Popsicles. But even those are really easy to make. There is no cashew-soaking, no waiting (well, except for the popsicles to freeze) — it's all quick and the instructions easy to understand.
I had so much fun creating this ebook and I'm glad I can finally share it with you guys. My no.1 favorite recipe from the book are probably the Cookie Dough Popsicles. Nothing really beats that, thought the other chocolate popsicle recipes come really close! My other favorites are probably the Triple Fudgesicle Popsicles (first picture on the left above) or the Sour Cherry Chocolate Popsicles (pictured below, top left corner) OR even the Raspberry Almond Butter Sorbet Popsicles which are also covered in chocolate (pictured below, bottom left corner). I can't pick just one you guys, they're all heavenly! Can you tell that I love chocolate yet? I mean, don't we all?
And oh my, the Raw Chocolate Sauce in this ebook is so delicious! It's different from the one that's already on my blog because there are different measurement. The one in the ebook makes enough to cover completely 10 popsicles. Isn't that the best?
I absolutely love every single popsicle recipe in this book and I hope you will too!
If you share your photos of the popsicles on any social media, don't forget to tag me with the hashtag #thehealthfulideas because I'd love to see your creations! :)