Oh look I'm drinking smoothies again!! JK I actually already tested two oatmeal recipes this morning which I'll be posting sometime in the near future. I don't know what it is about oatmeal but I just can't help myself but make it every single morning. I came up with two AMAZING flavors and can't wait to share them with you guys ;) Seriously, though, how is it I always end up talking about oatmeal on every single post?? lol Anyways, enough about oats, let's talk about smoothies! I love love love this flavor! It's ridiculously easy to make and you need only a handful of ingredients! At first, this was supposed to be a nectarine smoothie but then I found out the fruit in my freezer is actually peaches so it turned into a Peach Ginger Smoothie and I'm definitely not complaining about that. So GOOD.
Something that makes this smoothie kind of special (for me) is that it doesn't involve cacao. Yes, I put raw cacao powder into my breakfast 99% of the time (unless it's a savory meal ofc) because I simply can't help myself. Raw cacao is full of antioxidants, vitamins, and minerals but mostly it's just delicious. I mean, chocolate makes everything better, righttt?
While we're on the topic of breakfast and oats and what I usually eat, let me tell you my favorite way to make oatmeal. (aaaand we're back to talking about oats, typical) My usual breakfast is oats cooked in almond milk and a bit of water. When they're almost done, I add any fruit I have on hand (mostly frozen) – either wild blueberries, cherries, sour cherries, strawberries, raspberries, blackberries (most of which is hand picked by yours truly either from our garden or the forest from last summer). When it's done completely, I turn off the heat, add the raw cacao, a little bit of coconut sugar and any other powder/superfood I'm craving (chia, acai, maqui, mesquite, lucuma, yacon aka my new favorite sweetener, cinnamon, ginger, chai spice, lemon essential oil – so good with chocolate!!, etc.) Meanwhile, I chop some frozen strawberries if I don't have fresh fruit on hand, plate the oatmeal, top with the strawberries, nut butter if I have any and that's it! The perfect breakfast! And believe it or not, this fuels me for good 6-7 hours! If I start work at 11:30, I eat at around 9 am and then I get to eat lunch at around 3-4pm so I really need something I know will fill me up for hours. As much as I love smoothies, they can't do that so that's why I haven't been making them lately. When I have a day off, that's usually when I make a smoothie in the morning because I can eat the next meal sooner.
All that being said, I love having this smoothie as a quick snack or as an addition to my oatmeal. Either way, it's an amazing smoothie and you should totally make it! ;)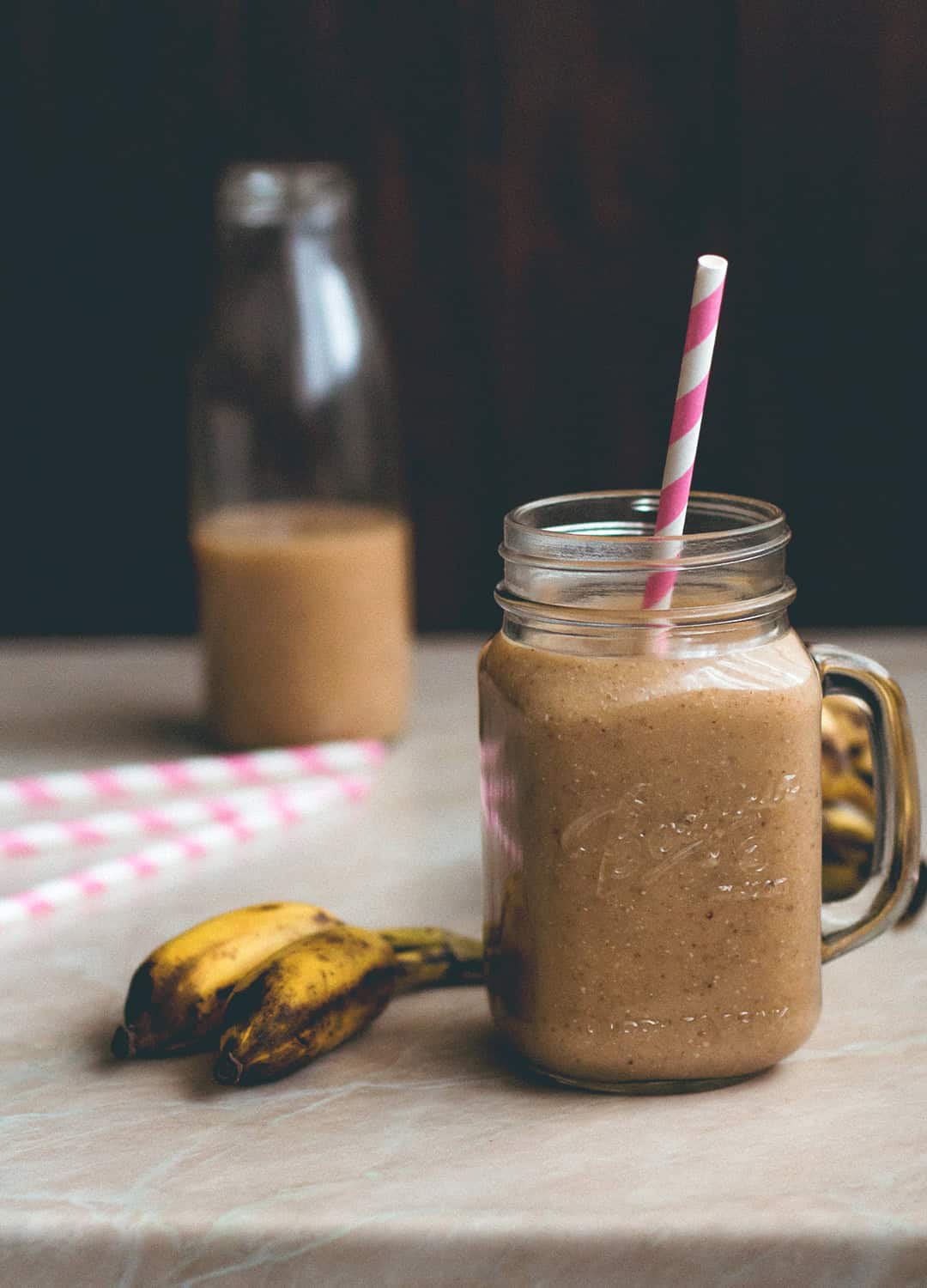 Peach Ginger Smoothie
Author:
The Healthful Ideas
Ingredients
2 cups coconut water (2 young Thai coconuts)
1 banana, fresh or frozen (I used 3 baby bananas instead)
1 cup chopped peach, fresh or frozen
1-2 cm fresh peeled ginger (add as much as you want and can handle)
¼ tsp cinnamon
1 tbsp chia seeds (optional)
1-2 tbsp coconut milk (optional, to make it creamier)
Instructions
Put all the ingredients into a blender and blend on high until smooth.
Either enjoy immediately or pour into a mason jar, cover with a lid and store in the fridge for 1-2 days. The less space these is between the liquid and the lid the better because less air ensures it will stay fresh longer.